Nicaragua: Surf's Up! (But Not Like You Think)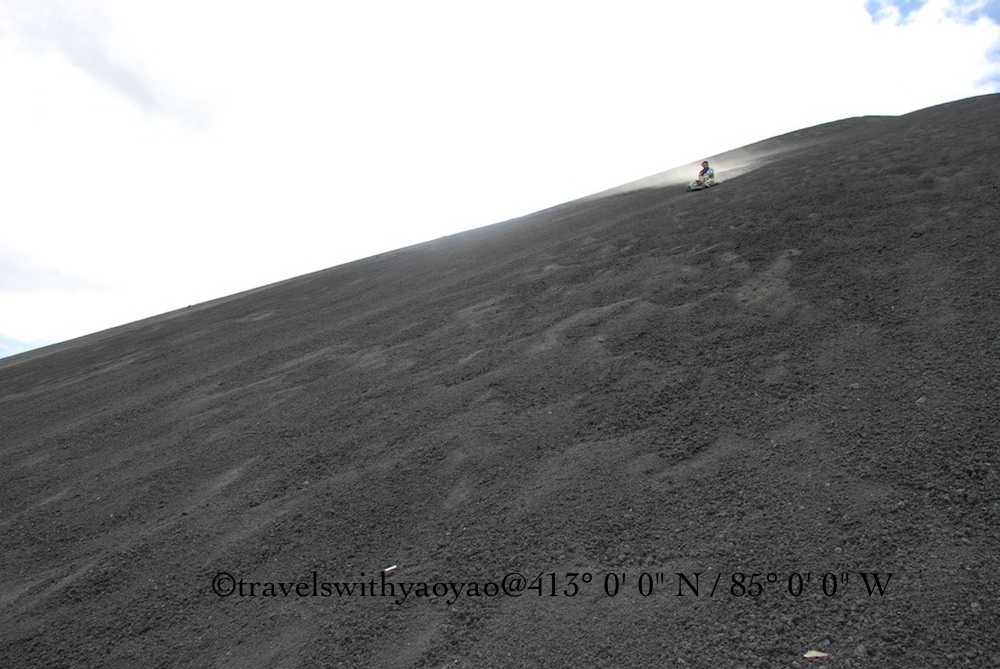 Nicaragua: Surf's Up! (But Not Like You Think)
So now they mention it: We had just gotten back from Nicaragua – Nicaragua in April, no less – and now everybody was telling us that it's pretty darn hot down there this time of year. Yeah, thanks a million for the advanced warning.
Not that there's much alternative, weather-wise: It's hot and humid, or hot and not so humid, year round. Take your pick, but I'll opt for hot and dry any time.
Now, I fare well in extreme heat, but the same can't be said for the spouse and daughter. They wilt, whine, and wallow in their misery. That leaves me as The Decider, as far as activities go, because the Jim is too busy occupying his fainting couch and inhaling his smelling salts. And that, my friends, is how we ended up volcano surfing.
This might have been one of those ideas that died aborning if Yao Yao hadn't piped up and said she was literally dying to go volcano surfing. So next thing you know, we were in the Nicascapes tourist agency booking our excursion to Cerro Negro, an active volcano near Leon, a little more than two-hour drive from our home base in lovely, leafy Granada.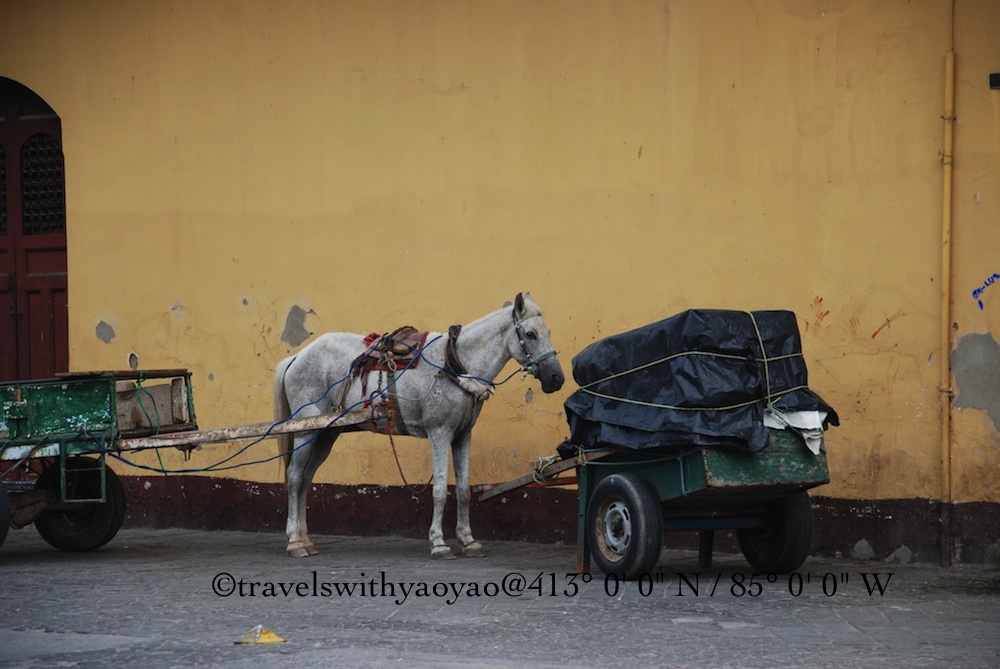 Of course, Jim didn't want to leave lovely, leafy Granada, because it has all the things he loves best in a town, including shade: A homey, historic hotel (namely, the Gran Francia, once the home of mercenary and delusional crackpot William Walker). And decent restaurants where you don't need a reservation. And enough historic sights, churches, and museums to keep his interest piqued. But to his credit, once he signs on to something, he's in. So the next morning, right after our huevos rancheros, we were off to scale the volcano.
Our tourist agent suggested we "wear jeans," but I don't think the advice was to be taken literally. He probably just meant "don't wear heels and pearls." After all, you get your own NASA-style camo jumpsuit, elbow- and kneepads, goggles, and headscarf to protect you from the ash and cinders, all provided by Julio, of Julio Tours, who was our guide on the ground. Julio also provided our wooden "surfboard" – just a plank that's turned up in front, like a toboggan, with a rope attached. The only thing he didn't provide was a way up the volcano – you have to get there under your own steam. And that means an hour-long slog up the hot volcanic rubble, ash, and cinders to the top, backpack and board in tow, all for a two-minute thrill ride to the bottom.
Luckily for us, Julio took pity on his panting clients, and just when Yao Yao was about to be blown off edge into the crater, he took her board and carried it the rest of the way. (She insists he took it when the hard part was over, but that was probably just the heatstroke talking.) I began to think perhaps my idea was a bit cracked. Had the sun baked my brain, too? Oh, boy, I really should have thought this through! I was so worried Jim would have a heart attack, seeing that by now he was carrying both his gear and my gear. I heard him huffing and puffing, saying things like, "Great idea, Sam! Maybe next year, let's try it when it's a little hotter!"
But once we got to the top of the volcano, the views were stunning. Even my heaving, wheezing husband began to exclaim about the stark, otherworldly beauty of the landscape, and Yao Yao, now fully recovered, agreed. It looked and felt like we were on Mars. Julio took us to the edge of the crater where the ground was actually hot to the touch! Then it was time – time to surf this sucker!
But not before we had to take the requisite photo of our little group "jumping for joy" to be in 97° weather, clad in head-to-toe camo. Jim could barely get off the ground!
Anyway, instructions for volcano surfing were simple: Sit on the plank, hold the rope to steer, and if you go too fast, put your feet in the ash to brake. And one last thing: If you get rocks on your board, it will slow you down, so stop and remove them – if you can . . .
Only two people can go down the volcano at a time, via separate paths, somewhat like you'd find on a toboggan run in winter. (Uh, but where was the Volcano Medevac Support Team?) We watched six people from another group of thrill-seekers, all in their thirties, tear down the volcano, and one flipped dramatically, way far down – all we saw was a poof of ash and cinders. Everyone was still as we waited to hear that she was okay. I'm embarrassed to say that my first thought was, "Excellent, maybe we don't have to go down now!" Unfortunately, she survived – so there was no backing out. The rest of their party took their turns careening down the mountain.
And then there were three . . .
Yao Yao sat on top of the volcano in position, looking straight down. To say it was "death-defying" would be an overstatement, but it was flat-out scary. And then she was off, heading straight down the side and picking up speed. I pushed off next to her, on the same path as the woman who flipped. Then I couldn't see her, as she had disappeared behind a mound of ash, only to see her finish a spectacular run, a tiny speck at the bottom. I, on the other hand, was taking on rocks like a leaky boat, and actually stopped to remove them, only to continue at a near snail's pace. Jim followed on Yao Yao's path, but he was going even faster than she. (Who knew I had been living with Evel Knievel all these years?) It was a hell of a ride, for them anyway. Maybe Julio misspoke about stopping and removing the rocks and ash, because I never picked up speed again – and Jim had a whole freaking quarry on his board, and it didn't slow him down.
Later, back in Granada, looking over "our" colonial square, sipping jalepeno lemonades, we recounted stories of our derring-do. "Pretty cool, Mom," Yao Yao said. "That was pretty cool!"
Tips for Surfing a Volcano
Use a reputable company to take you and provide your equipment. Ours took great care of us, but that was not always the case with others we talked to.
Bring plenty of water on your hike up the volcano.
Make sure you are capable of carrying your own board and backpack in excruciating heat – it's probably 20 pounds of stuff.
Go early in the morning when it's "cooler" (yeah, right!).
Don't bring little kids unless you want to carry them, which I don't recommend.
Don't wear clothes you care about – Jim was going fast, but he still took about two month's wear off his good sneakers!
If you have plans afterwards, ensure that you can stop somewhere to change and rinse off. Better still, go back to the hotel and shower first – we had ash in places you don't want to think about.
Resources
We used Nicascapes, a tour company out of Granada, and they were wonderful. Leonardo was our guy, and we eventually used his company to secure transportation to San Juan del Sur, a coastal community about an hour and a half from Granada. He gave us great tips and ensured we were well equipped and taken care of. His guide made sure we had water, use of a bathroom, and so on, which was not the case for some of the people we met. All fees were included, so make sure that the company you use is clear about inclusions and exclusions. Our driver knew the route well, so we never worried about safety on the road, and we felt comfortable leaving our valuables with him.
Silver (or Ash Colored) Lining
Yao Yao loved it! And what else matters, except safety – and clearly, even that went out the window, if only a little bit. But the landing (in what amounts to hot sand) would have been fine!