Springtime in Winter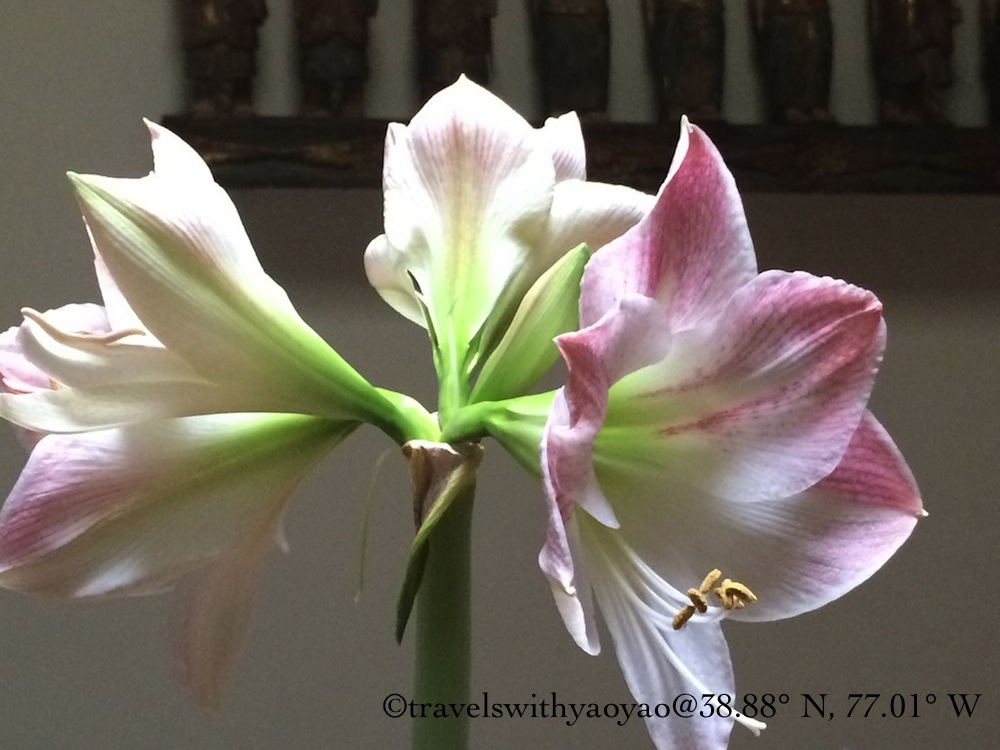 Springtime In Winter
Winter in the Northeast can be stunning, and Christmas can be almost magical, but…  winter in the Northeast can also be tiring and exhausting. By late February we are all climbing the walls craving any sign that spring is on the way. The glistening white snow has turned a dirty gray pile and navigating the sidewalks can become like running the gauntlet. The snow that Yao Yao loves to sled in becomes rock hard and something that requires a helmet and an emergency crew on call.
We all begin to think about what exotic country we can escape to until the snow melts and the trees begin to bud, but alas, our escapes are a mere week or two that time of year so…  That is when I combine my bulb obsession, and my fatigue of winter into creating a mini spring in grey February.
This plan is hatched in autumn, when we make our pilgrimage to the White Flower Farm in Litchfield for a bulbfest. I buy bulbs of every imaginable size and type and horde them for the winter that is around the corner. Though quite a few make it into the ground, and into pots on the terrace, more find their way to a cool dark spot for a minimum of six weeks. I then "force" the bulbs by setting them in stones, or plant them in little pots in the house. Back in the dark until the roots have grown enough so I don't have wobbly flowers, then out into the light! Depending on the type of bulb and the amount of light, the bulbs typically bloom in six to eight weeks. The amaryllis bulb below bloomed in five weeks. (Thanks toTerrain, another great resource for bulbs!)
Now I have mentioned my bulbmania (no, not bulimia, bulbmania) so I thought I include these pictures and as winter progresses I will post other examples like the teacup daffodils, (mini daffodils), muscari, crocus, and others currently taking their winter in my little refrigerator dedicated to bulbs. Paper whites, hyacinth, and amaryllis are typically ready to force in your house. Some say they do not need to be pre-chilled, but no worries, most nurseries or stores sell these bulbs ready to force. The other bulbs have to be pre-chilled or tricked to thinking they have been through winter. I promise when you have bulbs blooming in the house they will make you smile. I stagger them so I can have bulbs blooming at all year round.  Trust me, I am no Martha Stewart, many of my bulbs rot in the refrigerator and some of the bulbs are duds, but this week Jim and Yao Yao actually brought me in to show me that the amaryllis was opening up. Ah, two more converts!
White Flower Farm
This is a great resource for bulbs. They have a wonderful store, and you can also buy most of their products online.
Terrain
This is also a resource for bulbs. It's also an amazing store with more home-and-garden "eye candy" than you have ever seen, plus lots and lots of personal products, clothing, kitchenware – plus a yummy café!
If you're interested, I have quite a few other bulb resources – both online and bricks and mortar. Drop me a note and I would be happy to provide you more information.
Happy bulbing!
The bulbs in the little photos above have been lulled into thinking that winter is waning and spring is on the horizon. The teacup daffodils are set on stones with just enough water to feed the bulbs – but be sure the bulbs themselves aren't sitting in water or they'll rot. The crocuses are planted in soil. I know you can barely wait to see what transpires over the next few weeks!  Hold on to your ski poles and sit tight! The best is yet to come . . .