Surfing in Sri Lanka
Surfing in Sri Lanka
When we booked our three-week trip to Sri Lanka for December, the guidebooks mentioned that this was the end of the monsoon season, and the weather could be "unsettled." We'll pay closer attention to the wording next time. Because "unsettled" doesn't begin to describe the rain we encountered.
"Pounding." "Relentless." "A freaking deluge." That's more like it.
Anyway, Yao Yao had been an amazing sport, wading through floodwaters, contending with car sickness on wet and winding roads (and with our inability to locate more Dramamine), and dealing with her biggest disappointment by far: the constant presence of a driver.
Don't get me wrong, with a driver, you can get lost in the scenery, while rarely getting actually lost. Your driver can grease the skids (and the occasional palm) to make the going a lot smoother. Heck, just the ability to have a driver drop you off at the entrance of a crowded museum and pick you up in an hour at the same place is worth any price.
Especially when it's pouring rain.
But what you gain in convenience is counterbalanced by a lack of privacy. Yao Yao didn't like having someone so up in our business, and truth be told, we wouldn't do it again. We've had local guides before, but we're usually in a larger vehicle, which affords you a little more alone time. But this time, our driver for the entire trip rolled up in a smallish four-passenger SUV, which meant Jim was stuck in the front the whole time, talking to the driver, while Yao Yao and I were in the back. That was not conducive to feelings of cohesion and camaraderie in the family, if you know what I mean.
Yao Yao had forborne a lot over two solid weeks, so when we got to the southern tip of Sri Lanka, and the sun mercifully peeked out and then shone brightly for the first time since our arrival, we felt liberated, grateful, and ready for anything. We were also ready to give her some choices of how to enjoy her newfound freedom – five days without moving hotels.
So we told our driver he was getting an unscheduled paid vacation, as we were "going rogue." We had to be sure he didn't misunderstand this as something he had done wrong – it was more about the three of us exploring on our own, taking tuk-tuks, and just being untethered.
We were spending five days in Weligama, a charming beach town on a wide, sandy bay, with little roti stands, seafood restaurants, fish markets, and curio stands lining the way.
We were staying at the beautiful Cape Weligama Resort, and you could see Yao Yao begin to relax and her sparkle reappear, surrounded by all the luxury. Our villa was amazing, with sweeping views, a bathroom larger than most New York apartments, a terrace with three couches and a dining area where high tea could be enjoyed . . . and a butler to boot! (See my post, "Does a 13-Year-Old Need a Butler?" for more on how that went!) The Cape Weligama grounds were beautifully designed with multiple restaurants serving very good food. The hotel offers diving, snorkeling, bike riding, kayaking, whale watching, and so much more. Still, we wanted to get away from the pristine infinity pools and experience daily life with local Sri Lankans.
So after a delicious breakfast of local fruit, egg hoppers, and chicken curry (a local delicacy) al fresco, we mapped out the different options for the day, and (with a little prodding from Jim) Yao Yao settled on surfing. Jim was raised in southern California and had been on a board decades ago. And he thought, "Hey, I was a pretty good skateboarder in my youth, so surfing will probably come pretty naturally." (To say he had another think coming wouldn't be an exaggeration.)
So we headed out in our hired tuk-tuk (much to the chagrin of our butler) to find a local surfing school. Everyone we talked to had advice on which surfing school we should try, and we eventually found ourselves (by luck of the draw) at Surfing Sri Lanka. Because of my "unreliable" arm, I volunteered to be the designated bag-watcher, cheerleader, and all-around go-fer.
I'm only sorry I didn't videotape the entire adventure – it was entertainment you simply can't buy!
It was a surfing scene, indeed, and there were some good surfers as well as first-timers. (The really serious surfers were plying the reefs well away from shore, on the ocean side.) Once Jim and Yao Yao met their instructor, the first issue was that they were told to don what are called "rash-guard" tops. Yao Yao balked at having to wear a wet, previously worn dry-fit shirt, and to make matters worse, it was pink! (As many of you parents with girls over 11 know, pink is so over that they "can't even.") Jim got to wear a bright red, skin-tight one that would have shown off his six-pack, if he'd had one. (Not saying another word.)
Here's where it gets fun – fun for me, anyway. The instructor took Jim and Yao Yao and showed them how to paddle, lie down, and get into a crouching position that's the precursor to actually surfing, and after 20 minutes or so of this instruction, they headed out to the water. Jim looked confident, even eager, while Yao Yao, on the other hand, looked tentative. Though I was watching Yao Yao carefully, I couldn't stop laughing at the skin-tight shirt cutting circulation off Jim's arms, waist, and chest. He's in decent shape, but he's not a 25-year-old surfer dude.
I watched as they get tossed into the water, laughing and splashing each other, and I can see Yao Yao get her sea legs. And after two or three tries, she's Gidget, going totally Hawaiian. The instructor is shouting her praises, and she's smiling ear to ear.
Jim, on the other hand, has gotten up a few times, but not for long. Smiling? Not so much. After half an hour, he's totally exhausted, but his macho pride will not allow him to quit when his little one is excelling after a single session.
He eventually comes in, bloodied but unbowed, and so dehydrated and exhausted that I thought I was going to have to enlist a medical evac team to fly him out of the country. He kept whispering, "Water . . . water . . . for God's sake, water. . . "
You have to imagine this "surf school:" Though there is some shade for the "class" demonstration, it's really just white-hot beaches and a bunch of local surfer dudes hanging out with their girlfriends, waiting for clients. Not much in the way of amenities. So I ran about a half mile and found a place to get Jim water . . . and lovely pineapple juice for myself! He was a bit peeved that I took so long, but as the color came back to his face and he extracted himself from the dry-fit shirt, Yao Yao finally came in, exhausted and triumphant, and announced, "Your right Dad, surfing in Sri Lanka is easy!"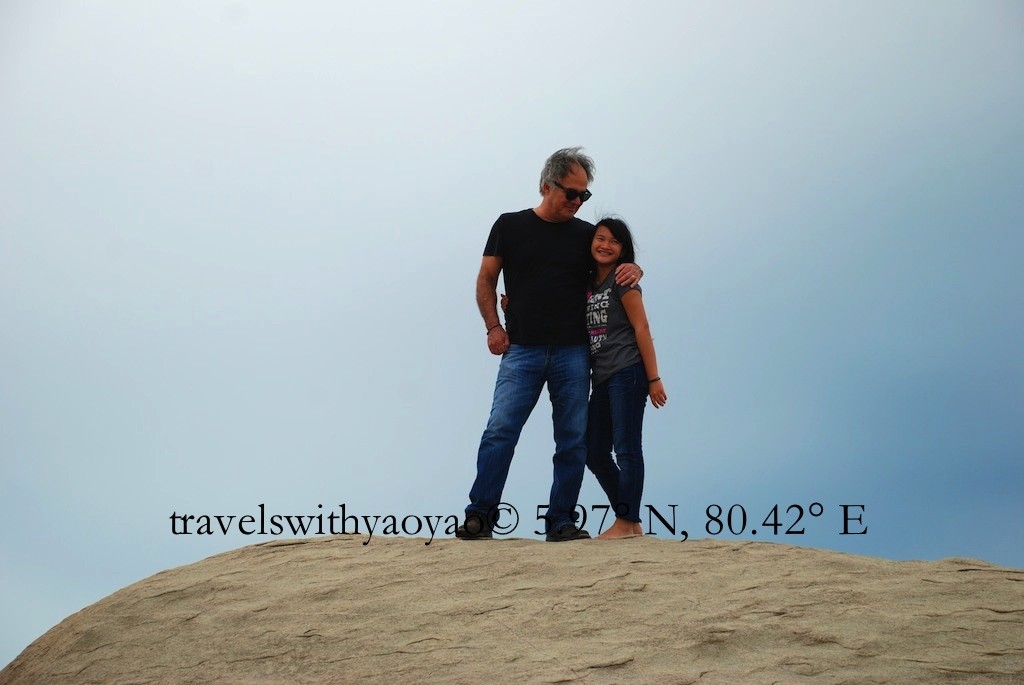 Yao Yao
I loved learning to surf. The instructor was really nice and made it easier than it looked. It was fun doing it with my dad, especially since I was nervous at first. It rained the entire second week we were in Sri Lanka so it was really nice to be in the sun and ocean.
Samantha
There is nothing like seeing the joy spread across your child's face when they realize they are surfing. She was glowing. I must say I also enjoyed watching Jim helping Yao Yao and watching them enjoy this together. I got just the tiniest smile watching Jim try to extract himself from his rash-guard shirt.
Yao Yao
I didn't like wearing a pink shirt with yellow ruffles that was wet and yucky but I didn't get sunburnt so I guess it was okay.

I wish we had a cabana to rest in and then go out and try it again. Our hotel had lounges and umbrellas but you have to bring your own to the local beach.
Samantha
Sitting and watching Yao Yao and Jim surf was "joyful" for about 20 minutes, then the glowing orb in the sky became . . . well, damned hot, and with no shade and a five dollar straw hat, I knew I was in for a wicked sunburn. (Oh, the sacrifices we make for the family.)
Yao Yao
I loved our suite – a lot! I loved the big bathtub and when I got some mosquito bites, my mom put cool water in the tub and I sat in the tub with a pillow and had a really nice view. I loved that there was a huge bathroom and a place to dry my hair and lots and lots of big white towels.

I loved the big terrace and we had high tea out there one day and read on the comfy couches in the late afternoon.

I liked having a butler. He was really nice and brought me extra scones and treats. He brought towels to the pool and made sure we had drinks because it was hot.

I also enjoyed all the restaurants and they were really nice if we wanted something a little different, or more traditional Sri Lankan food.
Samantha
I loved the location, the views, and the oversize bathroom and terrace. The grounds were wonderful and the food was excellent. I like that feeling of luxury without being too formal or pretentious.

Though there were not many children when we visited, they were great about ensuring Yao Yao was comfortable (she's pretty easy)

I also liked that the Italian manager of the property understood our desire for ease and comfort, as well as our wanting to enjoy funky local eateries and places to visit. He gave us some great ideas.
Yao Yao
I didn't like coming back to the hotel at night. It was really dark and the hotel is secluded so some of the tuk-tuk drivers got lost. One night we walked and it was kind of creepy because it was so dark.

Sometimes I didn't want the butler to come but mostly I really liked him!
Yao Yao
I liked a lot of the food. It was much better than Burmese food but not as good as Thai food. I like the shrimp risotto at Cape Weligama. I know it's not Sri Lankan but it was really good. I also liked the little roti stands all over the beach areas. The men who make the roti are really nice and put special things on it for you.
Samantha
There were many standout meals but I would say when we ate at a local family's home. They cooked 12 different dishes, all on an open fire, and the food was amazing. Grilled fish, shrimp curry, dhal curry, chicken something or other, roti something or other, and on and on and on.

We had excellent food at Cape Weligama, but for me the standout meal was the Fish Market Night, with fresh local fish, seafood, and vegetables. You picked out the items you wanted and how you wanted them prepared, with your choice of sauces and side dishes. As usual, I struggled to make a decision, so the chef said, "Why not have the local crab, lobster, and bass?" Why not, indeed!