Cheese Making at Yao Yao's Camp Imagination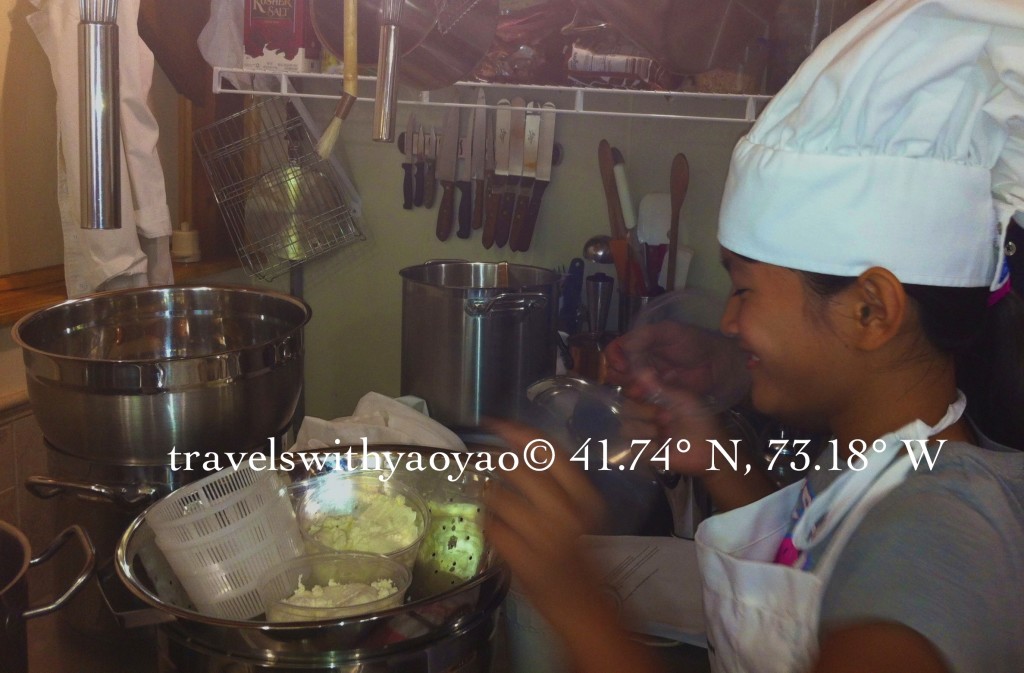 CHEESE MAKING AT THORNCREST FARM, OR YAO YAO GETTING CHEESY!
Back in the heyday of California cuisine, Jim and I lived in Berkeley, near Walnut Square. We were right up the street from Chez Panisse and Peet's Coffee and a wonderful place called the Cheese Board. I won't say when exactly this was, but suffice it to say, at this point in time people weren't regularly coming home with a lovely unpasteurized bleu d'auvergne to enjoy with their port, to say the least. We were probably buying some fairly conventional cheeses by today's standards, but that's where our love affair with the stinkiest, runniest, gooiest cheeses really blossomed.
Today, we'll often make lunch into a cheese fest, with two or three choices and some fruit and a loaf of crusty bread. (And maybe a pound or two of salume for the spouse.) And like many people, over the years we have become interested in how good cheese is made. So it should come as no surprise to anyone (and certainly not to Yao Yao) that cheese making made the list of options for Yao Yao's Camp Imagination.
Now as I explained in an earlier post, I gave Yao Yao veto power when we created Yao Yao's Camp Imagination, and she swiftly exercised this power when I broached a jam making class earlier in the summer. "One and done" was the sentiment, basically. We made jam once, and though she likes to eat jam, she has very little interest in the minutia of making the stuff.
For some reason, the idea of cheese making really appealed, though, partially because she would get to make the most kid – friendly of cheeses (mozzarella and ricotta) and it necessitated a trip to bucolic Litchfield County, a favorite family destination for a Sunday drive. Jim was all in, apparently because he would be afforded the opportunity to wear a chef's toque during the class. (He has chef fantasies that have not yet been fully explored.)
Anyway, I digress. Thorncrest Farm, where the class was being held, is in the town of Goshen, not far from Litchfield proper, where we had a quick lunch on the square. From there it's a 10-minute drive to the quintessential dairy farm, where Kimberly Thorn makes not only amazing cheeses, but also makes mouth-watering chocolates. How do I know? Because we tasted nonstop. We tasted fresh milk. We tasted whey. We tasted ricotta and mozzarella she'd made that very hour. Then she got so excited she brought out other cheeses she'd made over the past few months. And that's not to mention the chocolates – we gorged on chocolates till we were sick. The other ladies in our small class took discrete little nibbles while we looked like Lucy and Ethel (and Fred) with our mouths stuffed with delicious little morsels.
We continued feeding until our mozzarella needed my attention. (A glass of wine and I would have never left.) The typical class is scheduled to be around three hours but was actually over four hours, because of everyone's excitement and Kimberly's generosity. We milked cows, made mozzarella and ricotta, got to tour the outbuildings and experienced firsthand the amazing renovation they are doing, and got to see the beautiful furniture her husband, Clint, makes. The farm itself is a pleasure to see, and gives you a real sense of all it takes to run a family-owned farm. (These people work hard!)
And Yao Yao got to see how milk became cheese and became acutely aware that nothing – and I mean nothing – gets wasted on the farm (especially chocolate). Kimberly taught without being preachy, and her passion and respect for the environment made a huge impression on Yao Yao. It was a great day, and though Yao Yao said she wasn't tired, the minute the car pulled out of the farm she was fast asleep! Not to be "cheesy," but a good time was had by all.
Resources: There are numerous farms and cheese making opportunities all over the United States and, of course, in other countries.  We had our adventure at Thorncrest Farms.
Thorncrest Farm