Yao Yao's Top 10 Islands: #2 Harbour Island, Bahamas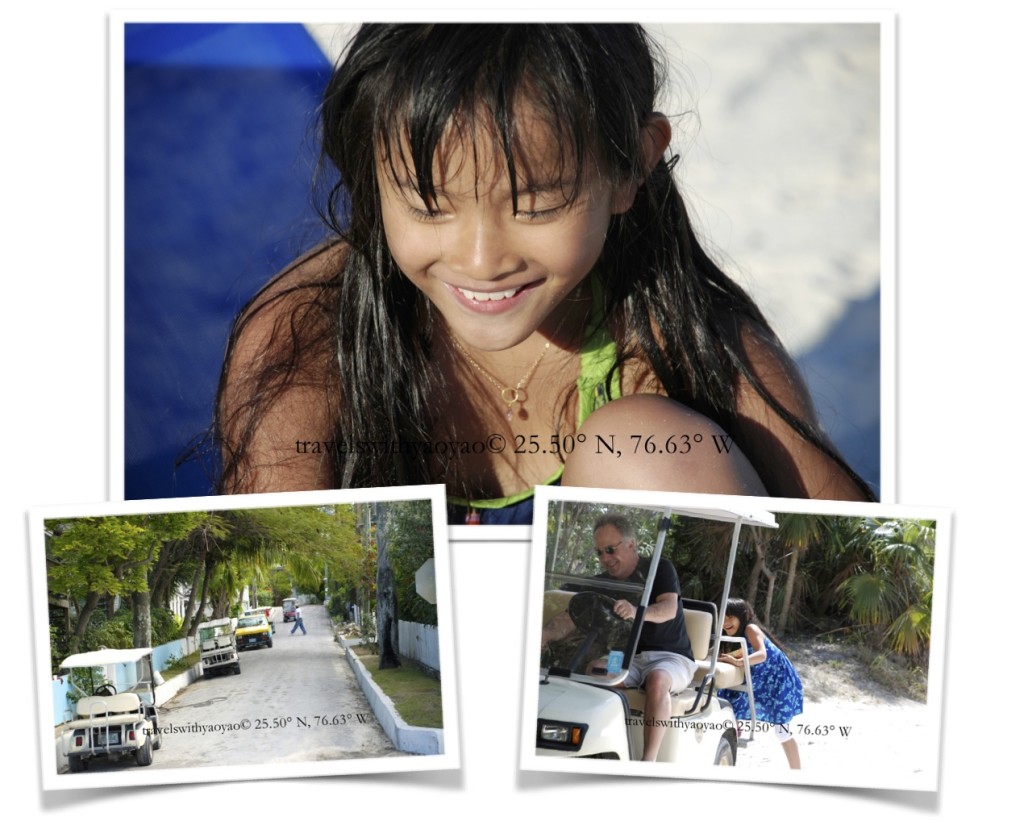 Harbour Island Bahamas
It can't come as a much of a surprise that on Yao Yao's Top 10 Islands list, her #2 pick is Harbour Island. If you read my post, Harbour Island, The Bahamas: A Place to Call Our Own it's clear that this haven would occupy a high position on her list. It's pretty high on my list as well.
For us, it's the pink sand beach (it's really pink), the charming and colorful 19th-century Bahamian cottages that line the harbor, funky and fabulous eateries both, well-curated shops to while away the time in, and the ability to use a golf cart as your single mode of transportation that set Harbour Island apart. But for Yao Yao, it's the familiarity and sense of "ownership" that makes this island so special.
When we arrive on Harbour Island, Yao Yao begins the countdown of places she wants to visit and restaurants she wants to eat at. She takes a real pride in knowing where things are, and loves the ability to say hi to old friends. Harbour Island is one of those places where you can quickly begin to feel a sense of belonging. You hear people tell stories of the standoffish Brilander (the name given to Harbour Island residents, an elision of "Harbour Islander") but we've never experienced it. By the time we drop off our bags and get our golf cart, it's like we never left. True, the island is only 3.5 miles long and half a mile wide, so whether you're on your golf cart or wandering about, it's hard to get too lost.
We head to the Dilly Dally to buy beach toys and then directly to the pink sand beach and take that delightful first swim. If you've ever had the opportunity to do the same, well, you might still be in the water.
In spite of all the press that this little island receives, it remains relatively unspoiled. With the exception of having to make reservations at The Landing or other top restaurants, it's possible to make no plans at all. No schedules to adhere to, no rushing here or there, it's like heading to your childhood summer haunt. For Yao Yao, it's like coming home.
Islands We Have Known & Loved
Can't Do Without…  Swimming at Pink Sands Beach. Driving around in a Golf Cart. Going to Pigly Wigly. Eating cinnamon rolls at Robert's Bakery.
Wish I Could… Drive a golf cart. (I can't wait until I am old enough) Bring my dog, Jack with me on our trips. Eat at Sip Sip everyday for lunch. 
Glad I had… My flip flops and Crocs. Three swimsuits. My books, drawing pad and pencils. My goggles.
These are many great places to stay, houses to rent and places to eat.  These are a few of our favorites.
The Landing
We've stayed at The Landing a number of times. It's an 1800 converted captain's house that overlooks the harbor. It's a walk to the pink-sand beach (I prefer a golf cart), where they have beach chairs and umbrellas for their guests. It has that wonderful plantation feel, with cane chairs on the verandah and a really lovely library. Our first time there with Yao Yao, we stayed in a two-bedroom suite. Yao Yao loved her long bolster pillow (her "hot dog" pillow), and the white linens and British colonel furniture fit my aesthetic perfectly. It was a property restored out of love, and the couple who runs it couldn't be nicer. When I was a "new" mother, they really were wonderful. Yao Yao loved the hotel and the food remains some of the best on the island. Though over the years we've stayed at other hotels due to availability, etc., we always return for the amazing brunch and at least two dinners. They have a very comprehensive wine selection, too. Reserve, because they do get busy!
The Landing : A Boutique Hotel on Harbour Island, The …
Pink Sands
Pink Sands is located across the island from the harbor, right on the renowned pink-sand beach. It's been remodeled, and the 25 cottages that dot the 20-acre tropical grounds are lovely. The advantage is that you're right on the beach and you have total privacy. It's perfect for families, because you're not worried about adjoining rooms or other guests. We love the Blue Bar for lunch, and then it's a 30 second walk to the chaises and umbrellas on the beach! They also have a kids' camp.
Pink Sands Resort in Harbour Island, Bahamas
Valentines Resort & Marina
This is more of what you would expect to see on some of the bigger islands. Valentines has a full-service marina, a large pool, and 40 townhouses with everything from junior suites to three-bedroom standalone units, all with kitchens, living rooms, and terraces. They're all nicely (if a little impersonally) decorated and conveniently located across the street from the resort restaurant, bar, dive shop, and gift shop on the harbor. Though it lacks the funky Bahamian vibe, its spacious accommodations and kitchens make it a great option for families, especially with small kids. The food is good and very kid-friendly, and they also have a kids' camp.
Valentines Resort & Marina
 Sip Sip
I love Sip Sip. I love everything about it: the menu, the environment, the ocean views, all of it! It's bright and lively, without being too noisy. They take no reservations and are only open for lunch, and still it's a wildly popular destination. The food integrates local fare whenever possible and is always fresh and innovative. My only complaint is they aren't open for dinner!
Sip Sip
Blue Bar at Pink Sands
This is one of my favorite lunch spots. Yao Yao and Jim love it, too. The food is wonderful and the breeze is amazing. I have never had a bad lunch here. It's beautiful in the evenings as well, but somehow the dinner never seems to be as good as the lunch. In any case, don't miss the lunch at Blue Bar. www.pinksandsresort.com/
Coral Sands Terrace
This large, modern hotel overlooks the glorious pink-sand beach and the food is wonderful. That is if you love Po' Boy sandwiches and lobster rolls! We've had dinner there as well, and it's also very good, but much more formal. They are welcoming and have been really flexible when we have come for a late lunch!
CORAL SANDS HOTEL
Arthur's Bakery
This is one of Yao Yao's favorite spots. It's in a category all its own. Robert Arthur is a warm, generous man who seems to know everyone on the island. After your first visit, you'll feel like a regular, too. It's not chic, but it's authentic, and the baked goods are incredible and the staff as nice as they can be. They serve breakfast and lunch, and their sandwiches make for great picnic fare. I think we find some reason to stop by every day.
Arthur's Bakery : My Harbour Island Bahamas
FUNKY EATERIES
Harry O's
Do not miss this funky shack, right on the harbor – but bring your mosquito spray! He serves fried conch and lobster, fish and chips, all things fried. It's cheap and cheerful! (Cheap for Harbour Island, I mean, which is expensive, because everything is imported.) It's right by the fisherman's dock near Queen Conch.
Queen Conch
The very best conch salad you'll ever eat. She makes it right in front of you. It's funky and fun – but in season, you may have to order ahead.
Brian's BBQ
This is a barbeque place in some guy's (Brian's, I suppose) garage! It's only open Fridays and Saturdays, but boy, oh boy, try it. You eat on Styrofoam plates and your chair might be rickety, but who cares when you're eating some of the best ribs and pork on the island (or so says my husband). They also have shrimp, lobster, and other fish dishes. The sides are rib-sticking mac cheese, beans, and so on.
Miss Mae's
Dunmore Street (tel. 242/333-2002)Full disclosure, this is my all time favorite shop. It's "curated" (a really overused word) accessories and apparel, and it's a real treat. It's on Dunmore Street.
Blue Rooster
I have never walked out of this store without buying something: a caftan, sandals, something!
Dilly Dally
This is a shop owned by a photographer from Nassau where you can buy T-shirts, shoes, shells, and other notions to bring home. Yao Yao always seems to buy something for her friends in this shop.
John Bull
This is a luxury store and the new path being set on Harbour Island. Watches, jewelry, and everything from Gucci to Kate Spade.
Jaqueline's Straw Works
On Bay Street, this little shop has straw items of every kind.
Sugar Mill Trading Company
It's owned by Indie Hicks, who some love and others, not so much. Her father's fame has brought attention to this tiny island and some are worried it will become the next St. Bart's Of course, we've heard this for 14 years!
www.myharbourisland.com.
Harbour Island Bahamas – Harbor Island – Briland Eleuthera
Harbour Island, Bahamas : Beach Guide : Travel Channel