Yao Yao's Top 10 Islands: #8 Benguerra Island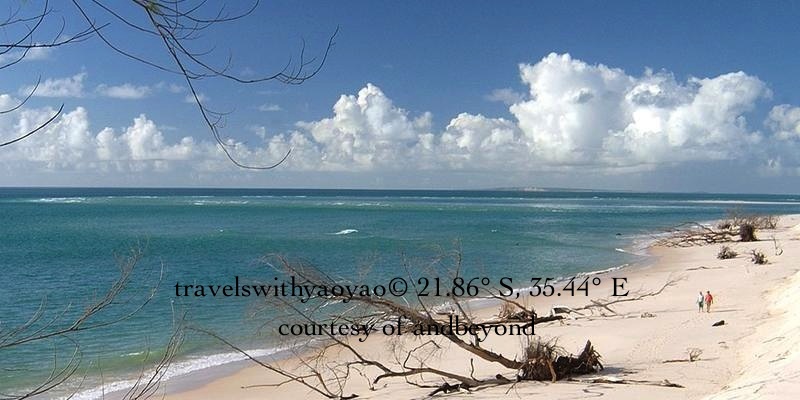 Every few years, we plan a trip with Steve and Ricann, our closest friends. It's hard to find people you like well enough to travel with. And we have a friendship that spans 25 years – and many continents.  How lucky are we!
This was our second trip to Africa with them, and on this one we got a chance to visit Cape Town and spend a few weeks on Safari in Pafuri and Krueger Park. We ended the trip in Mozambique, with a few days to decompress on the island of Benguerra. As it turned out, it was a perfect spot to end our three week adventure.
We all flew from Maputo, the capital, on a small chartered plane to Benguerra and were whisked off immediately to our lodgings to "meet the staff," who dutifully lined up on the lawn to greet us. In 2006 the island had few lodgings and even fewer children coming to the island as tourists. We were nervous about how they would deal with a four year old and our friends' teenage son. They were fantastic, warm and inviting, and Yao Yao instantly felt at home.
Benguerra Highlights
Yao Yao remembers the island as the place she got to " fly a plane" (she sat up front), sleep in a house on stilts, and was pretty much treated like a princess. When I asked Yao Yao what made this little piece of paradise so special her answers were surprising.
Yao Yao's Benguerra Highs
Yao Yao remembers the island as the place she got to " fly a plane" (she sat up front), sleep in a house on stilts, and was pretty much treated like a princess. When I asked Yao Yao what made this little piece of paradise so special her answers were surprising…
• The pilot let me sit in the copilot's seat and fly the plane. I think I did a pretty good job. He didn't let me land the plane, though!
• We stayed in a cool little house where I slept under mosquito netting in a big bed. There was no glass in the windows and one night a big bird came in our room and scared my mom. It was kind of funny.
• I liked sitting by the fire at night with my mom and dad and we had little snacks before dinner. There were some dancers one night.
• We went to an island called Pansy Island. We were the only ones on the whole island. I got to bring home sand dollars with pansies on them that I found on the beach. I still have them in my room.
• You can walk way out into the ocean – and the water was not cold. It feels like you can walk across the world.
I like that a man walked us to our casita after dinner with a big torch. You could see boats in the water and sometimes I think I saw dolphins
.• People were really friendly but they didn't make me feel shy. The ladies brought me little snacks every day and were really, really nice.
Samantha's Benguerra Highs
I loved the white beaches, the absence of other tourists, and the views of the little local boats bobbing on the tide. There was an African influence that permeated the island that was enticing. The resort where we stayed was a boutique hotel and had 10 little houses, called casitas. We booked three of the little casitas on the beach, so we had a lot of privacy and felt like the island was ours!
• You can walk for what feels like miles into the water – you just have to wear water shoes because the razor clams can really do some damage if you step on one.
• There was a serenity and feeling of safety on the island. We never locked a door or worried about anything other than ensuring we watched the sunset every evening.
• The resort prepared a Castaway Picnic and our driver took us to the highest dune on the island. Pretty spectacular.
• The dinners were fantastic, set under the African sky with platters of fish, seafood and grilled meats. We sat for hours enjoying the company, water and food. We had cocktails around a fire every evening.
• A local fisherman took us out on his traditional sailing vessel, called a dhow. He not only took us around the bay, but he also cooked us some delicious fish kabobs over a glowing brazier. I must admit, I did worry that the little pot of hot coals would catch the raggedy sail on fire, but we survived the journey.
What to do?
Absolutely nothing! Okay, that's no entirely true. You can snorkel, go deep sea fishing (no, thanks), scuba dive (most of the archipelago is part of a national park, which protects the coral reefs and marine life), go horseback riding, or visit other islands (yes, please). You can also do some bird watching, which I did from my lounge chair every day!
Wild orange and cashew trees are present all over the island, and along with the amazing marine and bird life there is an exotic feel to the island. Contrary to what I had been told, it's actually a paradise for children.
The seclusion, the ratio of staff to guests, and the amazing natural resources makes this a perfect haven for little ones. It's "private" without making you feel isolated, lively without that feeling of forced hilarity you get on some Caribbean islands – and it's definitively African.
This trip was special because we saw incredible sights, amazing flora and fauna, and were together as a family and with friends we love. That trip was nine years ago, but we still talk about it fondly – and frequently. We've been on many more adventures as a family and with our friends and have others planned. How lucky are we? No wonder this makes Yao Yao's Top 10 list!
The company andBeyond is  luxury African Safari and Tour company that was very instrumental in making this trip so special.  They are known for being experts in African Travel and were not disappointed.   It really was a trip of a lifetime.
Wouldn't Do That Again
Yao Yao – It got really dark at night and even going to look at the ocean was kind of scary.  Soemtimes you could hear the birds and animals.  It was cool but scary.
Samantha – I would not go into the water without some sort of shoe protection.  Maybe it was the time of year but the razor clams can really do damage to an otherwise perfect location.
BIggest Surprise
Yao Yao – I was surprised I didn't get scared.  Sometimes in really dark locations if can be really creepy and hard to go to sleep.  I slept really well everynight!  I was surprised there were dolphins and so many other marine life off this tiny island.
Samantha – The variety of environments on such a small island was amazing.  The wildlife, terrain and even the things to do seemed endless for this sleepy tiny island.