Yao Yao's Top 10 Island Countdown: #10 Singapore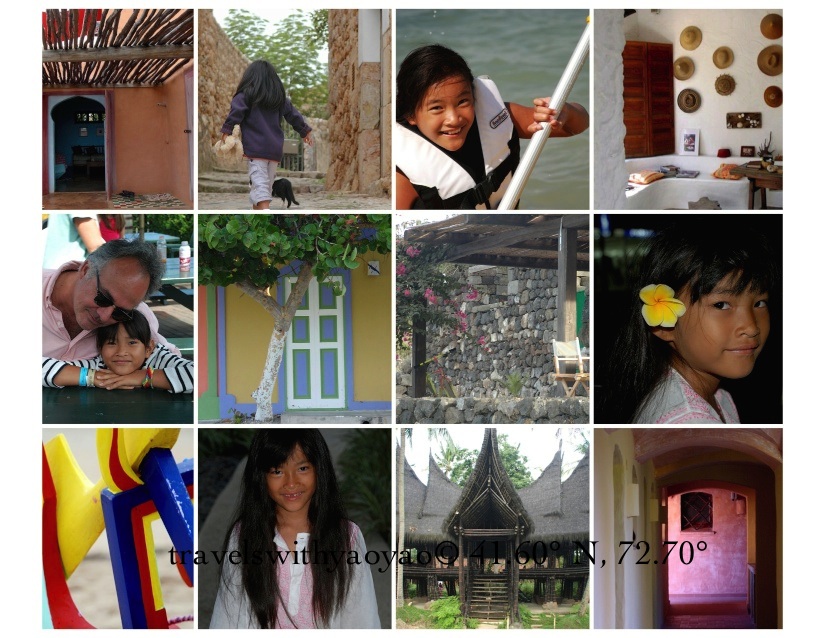 I don't know what it is about an island but there is something magical about them. What is it that draws so many of us to islands?  They're simply pieces of land, surrounded by water and yet… Is it the endless miles of unspoiled beaches, the jagged rocks, the rawness, the physical beauty, the marine life? It's all of the above and so much more. Some are wind swept and arid, others are tropical with dense vegetation, but there is a common thread, whether tony or "down at the heel," that continues to draw us to seek them out, and explore them. And we always end up feeling at home, whatever island we choose – and we begin to plan our return before we even leave.
Jim, Yao Yao and I love the water, the warm weather, the local fare and the relaxed atmosphere. When we started to reminisce about our favorite islands we realized that Yao Yao hadn't been to some of the islands Jim and I visited. We started down memory lane discussing our love of Los Roques, Corsica, Gozo, Corfu and so many more. So naturally Yao Yao decided to put pen to paper and came up with her own top 10. This was no easy task and getting her to outline her methodology was, well, not easy but here we go:
Below is the list of islands we have visited in her scant 13 years: Don't look for much in the way of methodology here. After all, she just turned 13 and has vague recollections of some of her early adventures. A single memory – lizards on Koh Samet, tapas on Menorca, the crystal clear waters of Lombok – can sometimes swing the voting and put an island squarely among the Top 10. Ours is not to reason why. . . .
Islands We Have Known & Loved
So, without further ado, I give you the first installment of Yao Yao's Top 10 Islands.
#10
SINGAPORE
Some think of Singapore simply as a gateway to other Asian destinations. Not Yao Yao: She was smitten as soon as we landed.
We were heading home after spending time in Malaysia and the plan was to spend New Year's Eve (my least favorite holiday) in Singapore before heading home.
As this was a last minute decision, Raffles was booked, so we opted for the Fairmont, a modern tower hotel located next door. (At this point, I should point out that Yao Yao is an anglophile, and she has a particular penchant for British colonial hotels built by the Sarkies Brothers, believe it or not: She's stayed at the E & O in Georgetown on Penang, and the Strand in Yangon, Myanmar – both Sarkies Brothers colonial masterpieces, and they are among her favorites. She just loves the time period, I guess. And yet she loves modern architecture and design as well.
Anyway, what is it about Singapore that she responded to? Maybe it's the sense of order? Maybe it's the insane cleanliness? Or maybe it's simply the incredible array of delicious cuisines from around Asia? (That's my reason, by the way.)
In our abbreviated stay, we ate at a popular and fairly touristy restaurant on Clark Quay, where I dove head first into the most delicious platter of chili crab I have ever had, while Yao Yao tucked into grilled tiger prawns and Jim made short work of a bowl of Xian noodles. (I still dream about that crab and wake up licking my fingers). Yao Yao loved the boats, the lights, and eating al fresco at 11:00 waiting for the New Year to arrive. (I have a little video of her singing a song she "penned," as she sketched away, that I will surely use to blackmail her later in life. For now, it remains safely tucked away. . . .)
We stayed up to watch the spectacular fireworks, and the next morning, Yao Yao raced to the window to see if she could spot a single piece of trash: nothing. She still talks about how quickly the streets were cleaned up afterward. The whole day long, trash-hunting become her raison d'etre – hearing tales of Singapore's draconian punishments for littering just whetted her appetite.
She loved the marketplaces dotting the city and the hustle and bustle of vendors. She remembers the jumble and excitement and color of Little India, and Tim Ho Wan, on Orchard Rd., – a little Chinese eatery where you line up for heavenly little dumplings.
But the best part of New Year's Day was dim sum lunch at The Red Star Restaurant – seemingly along with half of Singapore's population. The restaurant is located on the top floor of a large suburban parking garage and looks like a throwback to 1950s Communist era architecture. It was packed with locals and we got in right under the wire and sat and ate until we couldn't eat another har gow. It was one of those meals and experiences where everything went perfectly, and we all remember it with great fondness. Then it was off to Raffles for a libation (read Sprite) so that Yao Yao (and I) could get our colonial fix before heading to the airport.
If all that weren't enough, Singapore has one of our favorite airports. Where else can you get a bowl of noodles, a massage, and a good book, and take a restful nap, all under one roof? That alone should secure its place on anyone's Top 10.
Best Meal
Yao Yao – I loved dim sun and Red Star.  It was so crowded and lively and the food was so-o-o-o good.
We were the only tourists in there on New Years Day so I felt special.
Samantha – As if it isn't obvious-chili crab!
Coolest Site
Yao Yao- I loved watching the fireworks from the terrace of our really tall hotel.  It felt like the whole sky lit up! I looked and looked for trash the next morning but could only find one napkin!  It was like all the celebration never happened.
Samantha – I loved the juxtaposition of the Mosques and Temples mixed in with teashops and restaurants.  Singapore has all the organization and cleanliness of western countries with the excitement and variety of eastern countries.  Perfection in my book.