Sleigh Bells or Temple Bells
SLEIGH BELLS? OR TEMPLE BELLS?
Ever since Yao Yao was of school age, we've struggled with the Christmas Situation. In a nutshell: We live in Connecticut, where the winter holidays are a pretty spectacular. The streets downtown are festooned with lights and garlands, friends rekindle relationships that may have fallen away over the busy summer, and at schools, the parties, pageants, and winter music programs start to take precedence over homework.
It's also the only time when most busy couples with kids can string together more than a few weeks for a long vacation. But with school-age kids?
For years, we've taken the opportunity to travel abroad over the winter school break. Many schools will allow good students – or even middling ones – to take a little extra time over the holidays if you ask for it, for "educational" travel. Yao Yao's school calls it Extraordinary Education Opportunities. You have to commit to helping with homework while abroad, and making sure that your kid has a grasp of the concepts that teachers will build on in January. We had to clear it with the principle, counselor, and her teachers. If the reception from the education professionals at Yao Yao's school is any indication, you shouldn't have any problem getting a few extra days abroad. Having said that, I don't think after fourth grade you can really take your child out of school if the beach or skiing is your idea of "extraordinary education." (We've taken Yao Yao out of school for India, Laos, Myanmar, Africa, and South American.)
We also "encourage" (read: "make") Yao Yao keep a journal of her experiences on every trip we take. She started taking photographs early on, too, so we've turned her journals and photographs into Mac-based books. Here's an example of her India journal. Her photographs — particularly the ones of the tiger preserve at Ranthambore — are pretty spectacular, and her writing is good, too. Believe me, show something like this to your child's teachers and getting buy-in for future trips is a whole lot easier. It's also an excellent way to get a view into what your child looks at, absorbs, and connects to during the trip.
Yao Yao's Journal Excerpt
At night we went to a ceremony called Evening Aarti. The Hindu's believe that the Ganges River is a goddess so they have a ceremony of bells and oil lamps. We watched it from a boat on the Ganges. We also watched cremations taking place near the Ganges. I went to bed very tired and a little freaked out. Cremations are when old people (who die) get to be burned. The family has to stay near the fire and not be sad. This is the way the Hindus celebrate death. Then we went to a local teashop of a famous wrestler Krishna, our guide, knew. Early in the morning at 5:00 am, I woke up and had to get dressed fast because we were running late. Our driver was already at the hotel to pick us up! We were meeting our guide, Krishna. We went to the Ganges River and saw a lot of people bathing in there. I didn't look for long because some people were totally undressed. (it was kind of inappropriate.) We saw a temple for Mata Ganga (Mother Ganges). There was a woman in the open temple, she looked so graceful and peaceful. Suddenly a cow walked through the temple, blocking our sight! The cow walked down the stars slowly with a rug on its back (to keep it warm) swaying back and forth. Then we went on a boat to go to the holy man that has grown his hair out since 1948. That is a long time! At first he started shouting at Mommy for taking pictures (he is a little blind) but then when he heard Krishna's voice he settled down and let Mommy take pictures and showed us his hair. Krishna bought crackers for the stray animals that live nearby. Krishna would make a weird sound and all of the animals like goats and dogs would come and eat the crackers that he was giving out. One big black goat kept jumping on Krishna because he was probably hungry and greedy. The goat was so hungry he ate Daddy's luggage tag.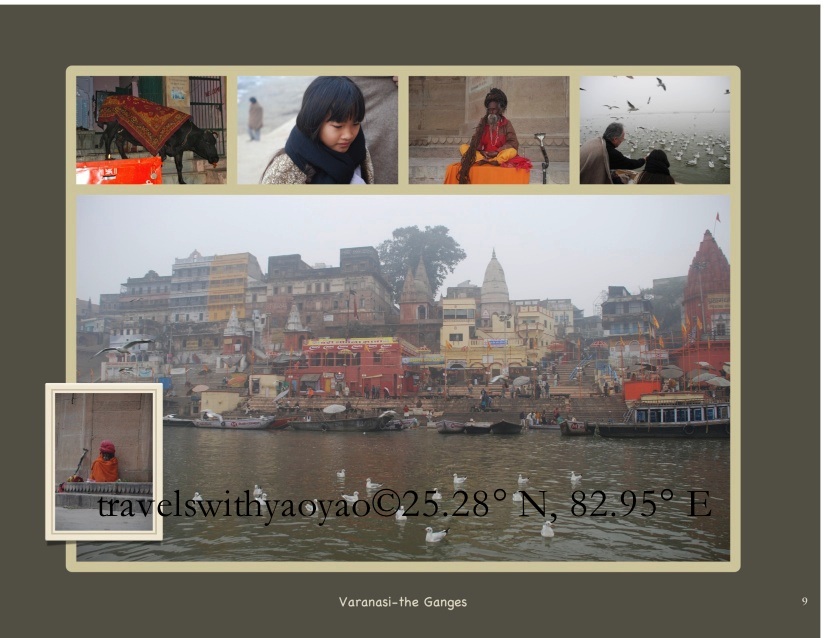 We have also done the abbreviated trips where we fly the day after Christmas, and though exhausting, it allowed us to have the best of both worlds — a traditional Christmas and a wonderful adventure abroad. Though Jim and I can shift our vacation start and stop times by a week or so, it becomes too disruptive to have Yao Yao miss too much school.
Of course, the hardest buy-in to get just may be your kid's. After all, kids love the traditional holidays at home as much or more than the adults. For some, it may be the only time you can spend any quality time with relatives or close friends. Some horse-trading may be called for — maybe hosting a larger, more elaborate, more inclusive Thanksgiving this year, or assurances that "next year we'll stay home for the best Christmas ever." I have to admit one of our best Christmas's was when my sister, her husband, and their son came from California to our house for the festivities. It was something Yao Yao asked for and time spent that is priceless.
So, home for the holidays, or on the road again? That's the first question. Then the question remains, where to go? As I mentioned, you have to choose a destination that has some redeeming educational value. (Study of early 19th-century colonial hotel architecture of the Bahamas, anyone? Sorry, that won't cut it!)
For the full-on Christmas experience with a lot of cultural amenities, Latin America has a tremendous amount to offer. The weather is great, obviously, but there's one major drawback: Christmas down south is an intense family affair, even in the big cities. One year in Buenos Aires we discovered that nearly all restaurants close on Christmas Eve and Christmas Day, even in heavily touristed areas, while public transportation comes to a standstill and cabs are virtually nonexistent. ("Cab drivers have families, too," said the hotel's concierge, who was halfway out the door himself.) If you can't find an eating place within walking distance of your hotel, you're simply out of luck. And we spent New Year's Eve in Mendoza, in Argentina's wine country, where the only option for ringing in the New Year (with dinner) was an all-inclusive, prix-fixe affair for $300 per person.
For those reasons and more, we've decided that winter is a great time to visit Asia. You have a couple of weeks or more to play with. The weather is usually cooperative — indeed, it may be the only time it's bearable in some places. But one of the big allures is, everything is open. Buddhist temples, monasteries, museums, music and dance venues, and, most importantly, restaurants, are open for business. At the same time, most hotels in areas touristed by Westerners pay homage to our traditions with decorations and holiday music, which makes it fun for the kids, too.
Of course, it helps that Santa is all-powerful and all-knowing, and he can find children and connect them with appropriate gifts either brought from home or bought en route. Just remember to purchase (or pack) and extra bag to get them home again.
Case in point: Christmas Day in Hanoi: We opened presents that had been stealthily hidden in the bottom of Dad's suitcase. (Lots of books and CDs — they lay flat!) Then a shopping spree for traditional puppets, dolls, and other knickknacks. A rickshaw ride to a traditional Vietnamese dinner — go ahead, pull out all the stops, it's Christmas. Then back to the hotel for hot chocolate around the tree, and bed.
And the New Year's buffet at the Hanoi Metropole Hotel's restaurant had it all over the Mendoza celebration —a fabulous, over-the-top extravaganza of seafood and regional dishes, complete with a hot chocolate fountain for the kids. All for just $60 per person, and worth every penny. Yao Yao still talks about it.
So this year – Sleigh bells or temple bells? We'll keep you posted.