Inle Lake: A Floating World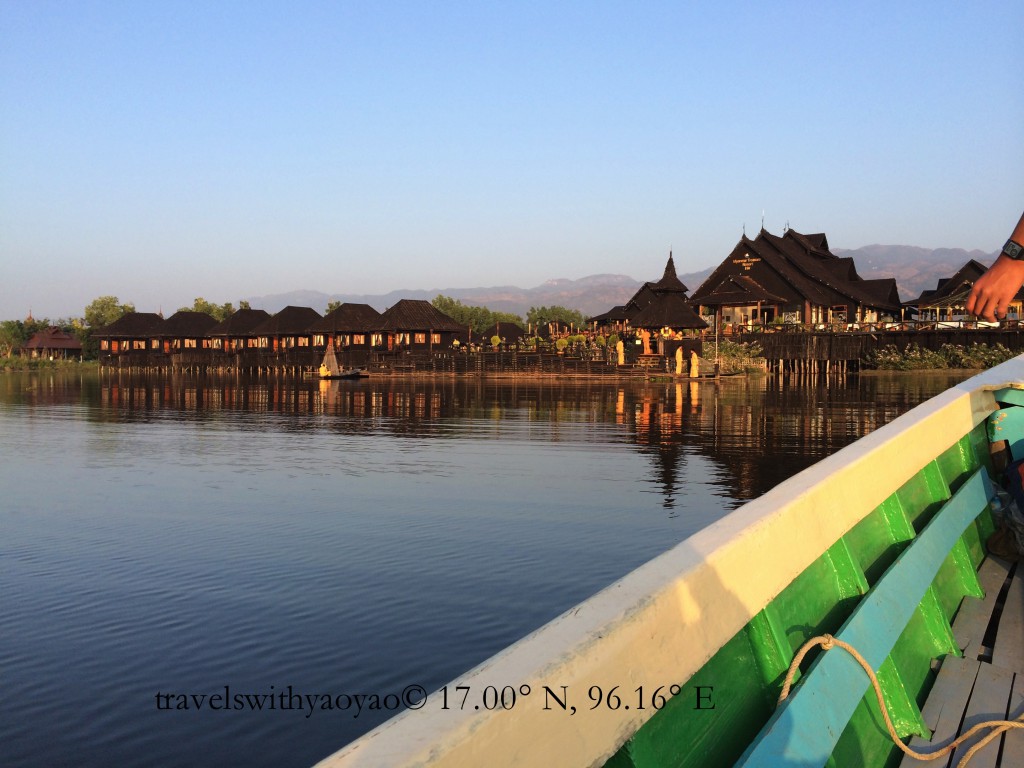 Enchanting. Ethereal. Exquisitely fragile. This is Inle Lake.
It is a world of floating markets, floating monasteries, floating towns, all sitting on or above the lake, "connected" by walkways on stilts and by long colorful boats that take passengers from place to place. Farmers work on floating plots of land, water buffalo bathe in the waters, and the Intha leg rowers on Inle Lake move from market to monastery in the early morning mist. The fisherman, with their conical nets stretched over frames made of bamboo, perform a dancelike ritual as they seek to catch their fill of the lake's plentiful carp
Located in Shan State, Inle Lake is the second largest lake in Myanmar, supporting a population of around 70,000 souls, mostly in homes built on stilts in little clustered villages. This area was hit hard in 2008 when Cyclone Nargis devastated Myanmar's Irrawaddy Delta and ravaged much of the rest of Myanmar as well. The local Burmese were left to fend for themselves, as the government refused to allow any outside help from other countries. Myanmar's lack of infrastructure left villagers without homes, food, or clean water. People, animals, and personal effects were left to rot in the same waters that had had provided them a community, a home, and a livelihood.
Myanmar has slowly come back, and you can see upscale hotels springing (and floating!) up to contain what looks to be the beginning of a large tourist influx. It's hard to be too critical – who wouldn't want to see this amazing and unique world? There is a tremendous concern that climate change, as well as the drain of local resources and unbridled tourism could have devastating long-term consequences for this lovely area. Again, Siem Reap can serve as a cautionary tale here, as well as in Bagan.
Speaking of Bagan, we left very early in the morning to fly to the Inle Lake area. We met our local guide, Su Yee Mon, at the airport and piled into the van for a one-hour drive to Nyaung Shwe, on the northernmost tip of the lake, where we're to catch our longboat for the trip to our hotel. As we climbed into a 30-foot, brightly painted craft, we were handed rough local blankets, as early morning on the lake is cold – really cold. The boats use their engines unless they're within roped-off areas near hotels, close to monasteries, or near any residences. We motored out into the middle of the lake and saw fishermen doing their slow and graceful dance. It now seems to be more for tourists – within minutes, there were three boats full of picture-snappers. It's a lovely scene, in any case. As soon as we started to get chilly, we tipped the fisherman and went on our way.
We came up to our floating hotel, the Myanmar Treasure, and were given warm towels and sweet lemony tea while we checked in. We sat on the large deck while others scurried around, carry luggage to our little floating room, a good three-minute walk away. Like most structures on Inle Lake, our hotel was built entirely on stilts, connected by long wooden walkways. It's really lovely and a bucolic way to walk from hotel room to café to viewing deck and down to catch the boats.
Perhaps the first clue to the weather in the evening should have been the hot-water bottles they brought to us in the evening, along with additional thick blankets. There must have been a 40- or 50-degree drop in the temperature at night. Jim never got to take advantage of his hot water bottle – I hoarded all of them!
As with most new places we travel to, there's too much to see and too little time. We picked what we thought were either important monasteries, snapshots of life on the lake, and anything indigenous to the area. If I were to be fortunate enough to return, I would want to see Kalaw, as well as go further inland to see some of the less touristy villages and to attend one or more Buddhist festivals that take place on the lake.
Nga Hpe Kyaung,
This monastery is famous mostly for its cadre of jumping cats: Evidently, the cats were once trained to jump through hoops, until someone pointed out that even though the practice delighted the tourists, it was not the best thing for the cats themselves. It's a lovely wooden monastery on stilts and the monks were kind and friendly. In the afternoon, as the sun was sinking low and the tourists were vacating for the day, women in a long row swept the mahogany floor in unison, using homemade twig brooms. Sounds odd, but it was a beautiful sight.
Phaung Daw Oo Pagoda
This shrine has five small Buddha images and is thought to be one of the most sacred shrines in Asia. (It's in the Top 10, anyway, at least to our thinking.) These statues have been covered by the devout with so many layers of gold leaf that they now are rather distorted and don't really resemble the Buddha form. These are purported to be from the 12th century. Be forewarned, only men are allowed to apply the gold leaf.
Indein Village
If you do nothing else, go upriver to the Indein Village. The boat ride was like heading into the Heart of Darkness. We almost had a head-on collision with a water buffalo, but he did have the right of way. You get a real view of river life without being invasive. We saw several different tribes here, and Yao Yao was quite taken with the boys wearing black nail polish! The village itself is interesting, but it's what's on the outskirts that is truly amazing. The hills are covered with hundreds and hundreds of shrines and stupas – no signs, no fences, no guards, just you and a thousand years of Buddhist history. We were all awestruck.
It's similar to Angkor Wat, with trees growing through stupas, and destruction from insects, animals, and earthquakes has taken its toll. And yet, in spite of its condition, the area feels more accessible, somehow less "precious" than the more famous complex. There were certainly fewer tourists – we pretty much had the run of the place. We asked our guide if she worried about tourists taking pieces of the broken sculptures and Buddha statues. She looked at us as if we were crazy: "Nobody would do that," she said. "It would bring bad luck – everyone knows that."
It's a special place that will likely not exist in its present state for much longer, unless people are able to raise the funds and the awareness to preserve this amazing area.
Mine Thauk Market
If you've read anything I've written, you know I'm a market junkie. Whether it's a small open-air market in Provence or a huge souk in Morocco, count me in. Well, who wouldn't love a market that's held every day in a different location on the lake, but every fifth day swells in size and variety, attracting hill tribes and tourists? Of all the markets we went to in Myanmar, I enjoyed the food the here most: Fried tofu that Yao Yao could not get enough of, little fried dumplings with sweet scallions, and a medley of pickled vegetables. We ended up having a wonderful little lunch with a local family who spent most of the time giggling at our ordering and eating habits. To this day, I don't know what we did that was so humorous, but a good time was had by all! It's a varied, bustling market with everything from fruits and vegetables to pots and pans. Yes, you can also buy souvenirs, and yes, we did!
Local Crafts Villages and Workshops
When we're traveling – and especially traveling in India or other Asian countries – Jim will beg (or bribe) our guides to please, please, please not subject him to the dreaded "crafts villages." I have a bit more tolerance for seeing how things are made, and for the inevitable dog and pony show at the end, where you're made to feel uncomfortable if you don't purchase something. I admit, it's rarely interesting enough to warrant us spending our precious time on it, but every once in a while it is. We visited several at Inle Lake, and the one I would highly recommend is the lotus weaving. First of all, there isn't high pressure to buy. Secondly, I have never seen lotus stems stripped of their silk and woven into such lovely pieces. Some of the looms were more than a hundred years old. Did I buy anything? Nope, but it was an amazing process to see.
Ask your guide if you have any interest in seeing these other workshops:
• In Phaw Khone weaving
• Goldsmith and silversmiths
• Longboat building
• Cigar making
Speaking of heavily marketed tourist venues, there's a local store that "presents" several members of the Padaung tribe, or Karen people, as sort of a tourist attraction. We were ill-prepared to deal with what came next. These are the women you might have seen in documentaries, wearing heavy brass coils around their necks. They start wearing these coils from a young age, and as their necks and shoulders mature and they can carry more weight, more coils are added. This elongates the neck, which is considered beautiful in their culture. These Karen women have become a tourist attraction as a way of making a living, and yet every aspect of this practice indicates they are being taken advantage of by their own culture as well as by tourists and whoever else is behind their appearances in these local venues.
The custom of elongating the neck causes a variety of health issues, and eventually, these women are unable to carry their own heads on their necks without the support of the rings. Jim and I shuddered at the blatant exploitation of these women, yet we were told that without the tourist industry, there would be little opportunity for them to make ends meet. The eldest woman encouraged us to take her photograph, and I felt like it was a 21st century version of the circus. We tipped her and the younger women and left as quickly as we could. Who are the good guys? Who are the bad guys? Something to think about before you get off your longboat.
Floating Farms and Gardens
These are well worth seeing. We visited the Nampan Village and though lovely, I felt like an interloper. We got off the long boat and walked around what felt like someone's personal garden. Uh, don't try this at home. . . .
Overall, the whole experience at Inle Lake was wonderful. Though we saw a lot of sights, and spent a good part of the day in Indein Village, we still managed to spend quite a bit of time in our stilted home.
We spent Christmas there, and Yao Yao had a great time. The staff really pulled out all the stops. I can't imagine the Four Seasons in, say, Chicago putting on a special dinner and show for a Buddhist or Hindu holiday, but that's the special charm of Myanmar. Staff members sang phonetic versions of Christmas carols, which was a sweet and touching gesture, and every guest got a bag of little gifts. We ate wonderful little Burmese tapas and then had dinner, and afterwards there was some beautiful singing of indigenous tribal songs and really skillful tribal dancing. It was a really nice evening, and Yao Yao felt like she got her Christmas.
Overall, the food at the hotel (and throughout the country, actually) was less than stellar (I am being generous), and the piped-in Johnny Cash and Elvis music was problematic. We did have some good meals in local restaurants. The grilled river fish, noodle dishes, and vegetable dishes were very good almost everywhere. Once our guide figured out we would eat street food at the market, she steered us away from the dreaded Continental fare and recommended solid local eateries. If your kids are not adventurous, no worries, there's such an influx of tourists that you can find pancakes, pizza, and the like.
YaoYao's Journal: Inle Lake
At Inle Lake, we got on a boat, a small narrow one that looks like it can tip over easily and has an old fashion motor. On the way the hotel we saw fisherman rowing boats with their feet. They twist their leg around the oar, and use their leg to row. They do this while balancing on the other foot. This frees their hands to cast their nets or trap fish in cone-shaped baskets.
Our hotel was on stilts like a lot of the little villages. It feels like it takes five hours to get to the lobby but it only takes two minutes.
We went to several monasteries. I think I like the Nga Hpe Kyaung Monastery the best because it was known for its jumping cats. The monks apparently meditated during the day and at night, but got bored during the day. They got cats, and taught them how to jump through hoops. The monks stopped because it was abuse, but now there are just a bunch of cats milling around. The cats are really cute though. There are a few kittens too. There is one mostly black kitten with white on its paws that was really shy, and nobody could get near him.
Another temple we went to was Phaung Daw U. It had what looked like five golden snowman, but were really five Buddha statues that were so covered in gold leaf that they had lost their features. Every year people take the Buddha statues to different parts of the lake, on a beautiful swan-shaped barge. Supposedly one year the barge capsized and one Buddha was lost. They took the four remaining Buddhas back to the temple. When they got there the fifth Buddha was already there.
We saw four different workshops: cigars, weaving, boat making, and silver. The most interesting one was the weaving. I have seen lots of weaving before, but I've never seen it with lotus. They break the stem in half then take long whitish strands and lay them on a chopping board. Once they have enough strands to make a thick thread they roll the strands together. Then they weave the threads into beautiful material. It is very expensive so sometimes they weave it with silk.
In the boatyard they build traditional longboats (used for fishing and transportation). They are made out of teak wood. They don't use machines, they do it all by hand. They have a handsaw with two people – one is on the ground and one is on the platform. It takes two people to work the saw. The boats are about thirty feet long and three feet wide. Some boats are painted bright colors while some have a more natural look. These are the main way of transportation on the lake.
We took a boat ride up the river to see Indein village we saw many hill tribes on the way. Some wore all black and some had guys with black nail polish on. We also saw water buffaloes. They were so cute. We walked through a little village to get to all of the temples and stupas. There are more than a thousand of them. The people at the hotel were really nice. The hotel did a big Christmas event. They sang carols and did traditional dancing. I got to go up on the stage and dance with them. The hotel even gave us little presents of traditional handicrafts.
Best Surprise
Yao Yao – I was surprised that you had to do everything on a boat.  I was thinking you drive around the lake.  It was really cool. I liked the Jumping Cats too.
Samantha – I was surprised with such little infrastructure we were able to stay in a lovely hotel, eat well and so efficiently see so much.
I was also surprised how cold it was.
Best Sight
Yao Yao I really liked watching the fishermen and the leg rowers.  I also really liked going up the river to see the stupas and water buffalos.
Samantha I loved Indein Village and the surrounding area.  The journey on the long boats to the marketplace and other destinations was really enjoyable.
Next Post – Myanmar: Ngapali Beach