Myanmar: Burma Bound
We're on our way to Myanmar! Nearly 13 hours into our almost 26-hour flight, and we're a bit cranky but excited about landing in Yangon, the old capital (formerly known as Rangoon). Yao Yao, our 12-year-old daughter, is aware of the political issues that have plagued this country, but only at a very high level. You want your child to feel safe but you also want to ensure they understand the challenges as well as the opportunities that affect the country you're visiting. How much is too much? It depends on what your child has been exposed to, their maturity level, their fears, and so on. Our first trip to Bali, Yao Yao was petrified of the butakala spirit statues – and in Bali, there are little statues everywhere. We worried about her ending up in a catatonic state. So we let go of trying to explain the significance of the statues and covered the ones in our hotel room with spare articles of clothing and towels. When we returned to Bali four years later, Yao Yao had outgrown those fears – plus, she had learned a fair amount about comparative religion by this time.
Anyway, to get ready for this trip, I did what I always do: Over-prepare! I read anything I can get my hands on, search the Internet, go to the consulate, ask around. I typically get "hooked" on a historical event, a regional food, a kind of indigenous art, or traditional music. This time a friend of mine mentioned the Death Railroad, and I was off and running. (Now I'm totally fascinated – and horrified – by the sufferings of the POWs forced to build the Thai/Burmese railroad by the Japanese army. If you're interested, The Railway Man is an excellent movie about the building of the railway and the huge toll it took on those prisoners who were forced to construct it. Highly recommended.)
Of course, I've also been reading about the Myanmar military government dictatorship, and the curfews and restrictions put on the citizens of this amazing country. Myanmar has opened up politically in the last two years, and many of the restrictions have been lifted. Tourists are not allowed in some parts of the country, and there are competing theories as to why this is. Is it to protect the tourists from danger? Or that the government doesn't want the outside world to see the injustice happening to specific ethnic groups? (I choose Option 2.) Our decision to go now was dictated in large part by fact that the Dali Lama and Aung San Suu Kyi have encouraged people to visit, with the caveat that the money you spend go to the local people and not the government. We're trying our best, but knowing where the government has an interest is difficult when you're dealing with a shadowy economy like Myanmar's. And I'm sure we'll make some mistakes.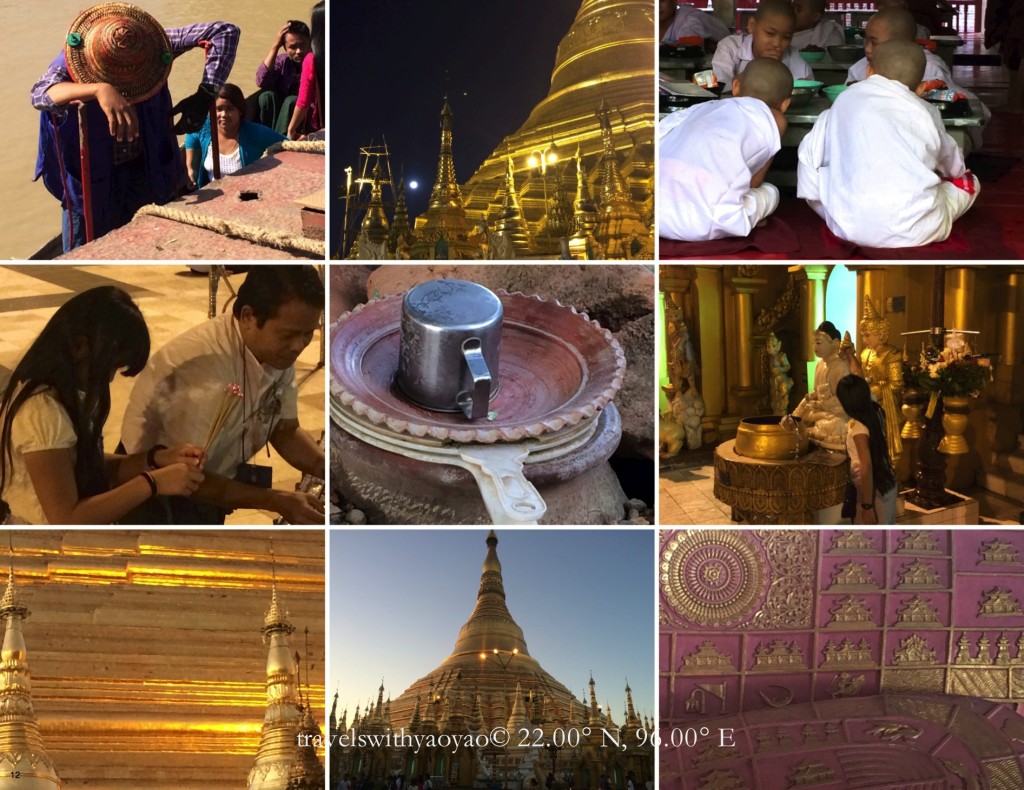 YANGON
We arrived the way we always do — tired, rumpled, yet excited to get going. Yangon was probably once a lovely city, but it's a bit like a fern left in the sun without water. There are breathtaking sights, lovely colonial buildings, incredible sounds, smells, and tastes. But there's tremendous squalor and heartbreaking poverty, with buildings left to slowly decay in the sun.
We drove slowly by Aung San Suu Kyi's house where she spent many years under house arrest, but Yao Yao was so tired she just wanted to collapse. Though you can't go in, it was still very moving. We were starving, as Yao and I don't really eat airplane food. So we headed to Feel Myanmar, a popular spot that came highly recommended. Countless dishes are on display on large counters, so if your Burmese language skills are like mine (nonexistent) you can just point. We over-ordered at lunch, as I always do in my exuberance. They were kind enough to let me order mohinga, a traditional soup, which is not typically eaten in the afternoon. It's a fish soup with lemongrass, banana leaves, and a whole host of other herbs and elements. Yao Yao liked the Shan noodles and some of the rice dishes, but some items were too spicy. I loved the tea salad but it was not a hit with Yao Yao. Jim, of course, tried everything! (In the spirit of full disclosure, Jim was not crazy about Burmese food. "You're right next to Thailand, for Pete's sake," he would rave. "Use some coconut milk!" I thought he was overreacting a bit.)
Anyway, it was a fun entry into Yangon, and from there we headed to The Strand Hotel.
The Strand was built in 1901 by Sarkies Brothers, founders of Singapore's iconic Raffles Hotel. Here it may be appropriate to discuss Yao Yao's obsession with British colonial hotels around the globe. This child's favorite hotel in the world — and she's seen plenty — is the Eastern & Oriental (E&O for short) in Georgetown, Penang, another Sarkies Brothers establishment. (I kid you not.) She also loves the Metropole in Hanoi and Raffles, of course. (We stayed in the huge tower hotel right next to Raffles, and she would gaze down at it lovingly.)
So obviously, we all felt at home at the colonial-era Strand. Our room had a small alcove so Yao Yao had her own private area. She arranged her books and stuffed animals and was out for a four-hour nap. This is an important ritual for her, and we take it seriously. It sets us up for success. Yao Yao needs to arrange her things in a way that feels familiar and comforting. We encourage it. It's not like we're painting the room or hanging up artwork, right? When we come back from a late dinner or long day, her little piece of home is there for her.
There is much to see in Yangon and we only had a three short days. The challenge is not to overload your kids or, frankly, yourself with monuments, or you won't really get the opportunity to experience the place. Yangon offers visitors a treasure trove of 19th century colonial architecture and, beyond that, important Buddhist shrines such as the Shwedagon and Sule pagodas. I found the city invigorating, depressing, vibrant, and a little bit overwhelming. I also found it spiritually uplifting – not a term I use lightly. But the real magic exists in the openness, generosity, and joyous spirit of almost everyone we met.
At night the city feels more down at the heel. Our taxi driver couldn't find a hot-pot seafood restaurant we wanted to try (okay, that I wanted to try), and in the search, we drove through areas that felt as if they could crumble around us at any moment. By the way, it was worth the trip, because we were the only Westerners in the hot-pot eatery and had a great time together and with some of the locals who helped us order. (In all honesty, my daughter and husband didn't share my excitement about the restaurant – Jim was the first to point out that the seafood and other proteins that went into the soup were completely unidentifiable as to their "origins." It was delicious nonetheless.) They much preferred a local fish restaurant we went to the night before, the Minn Lane Rakhine Monte & Fresh Seafood Restaurant. (This restaurant was also very difficult to find, and the taxi driver seemed tentative in this particular neighborhood.)
At Minn Lane, you can select the type of fish you want, and you're in charge of how it's cooked. We all had the house special barbequed crab, which was delicious, plus grilled tiger prawns, prawns in banana leaf, a bowl of moh-ti noodles (similar to mohinga), and other odds and ends. It's a delightfully downscale place, totally casual, full of cheerful families – a delicious slice of Yangon life.

Whatever you do or don't do while in Yangon, do not miss Shwedagon Pagoda. Heart-stoppingly beautiful at any time, Shwedagon glitters bright gold in the heat of the day. Then, as the sun wanes, it turns a crimson gold and orange, and the stunning diamond at the spire's peak casts a beam of light that reflects sheer white, brilliant red, and rich green to the far corners of the temple platform. It can be quiet and contemplative, or colorful and lively. And for the people of Myanmar, it's the most sacred of all the country's shrines, one that all Burmese Buddhists hope to visit at least once in their lifetime. (Yao Yao loved it.)
Legend has it that Shwedagon has existed for more than 2,600 years, making it the oldest Buddhist pagoda in the world. The story goes on to say that two Burmese brothers, Tapussa and Bhallika, received eight hairs from the Buddha's head, which they brought back to their homeland in a golden casket. When the casket was opened on Singuttura Hill, miracles happened around the world. The hairs were later enshrined here, and Shwedagon "grew up" around the relics.
The guide spent time explaining how Shwedagon represents the entirety of the Buddhist cosmos, the ins and outs of Buddhist astrology, the eight days of the Buddhist week, and the different spirit gods and animals that represent the days. Once you figure out which day of the week you were born, you can then pray to that particular animal. Yao Yao thought this was a very cool idea. She explains the whole thing in her journal entry, if you're interested.
For most Buddhists, this is the one of the most sacred of shrines. You can see the pilgrims coming from all over Myanmar and Southeast Asia. We experienced it at dusk, in the cool of the evening, with a slight breeze setting the thousands of little gold and silver bells hanging from the stupa to tinkling. It was a breathtaking experience – one that none of us will soon forget. If you're using local guides, this is a good place to take advantage of all the knowledge they have. Be sure to be very clear on what you're interested in and what you're not.
Later, we took a walk around Kandawgyi Lake. It gives you a lovely view of the Shwedagon Paya, and gives everyone a great opportunity to be outside and enjoy the lushly verdant park. However, the planked walkway that wraps around the lake is uneven and has large broken boards. An older child can certainly navigate the walkway, but we saw young families with strollers who were a bit challenged.
The Bogyoke Aung San Market (also known as the Scott Market) is well worth a visit, too. It sits near the old railroad station, which is rumored to be soon turned into a luxury hotel. Much of the market is for the tourists, but if you dig deep you will get past the T-shirts and flip-flops and find some interesting things to buy – lacquer ware, antiques, gemstones, basketry, jade, cheroots, and much more. And upstairs is the fabric center, where you'll be able to fit yourself with a traditional Burmese longyi, the sarong-like garment worn by Burmese men and women alike.
The market can be a treat for children, as there are things they have likely never seen before – and probably never see again. If you are traveling with kids under five or six, keep a close eye on them. Like most public markets anywhere in the third world, sanitation isn't great. We always make sure we have used the restroom prior to beginning any local market visit. It's closed Mondays.
YAO YAO'S MYANMAR JOURNAL – YANGON
Our guide picked us up and he was really nice but hard for me to understand. He talked a lot! I was really tired and hungry and really wanted to go to the hotel. Mommy wanted to see where Aung San Suu Kyi was held under house arrest. I didn't want to go but my parents made me. Next to the Feel Myanmar Food, a place mommy read about. Mommy wanted to try mohinga, a traditional fish soup, and our guide was happy we wanted to eat locally and not just tourist food. The restaurant was really busy with local people. Inside was dimly lit and the smell was a mix of different Burmese foods. They had many different types of food: barbecued pork, fish soup, dumplings of crab, shrimp, and pork, and so on. There were curry dishes and spicy shrimp and squid salad. We ordered way too much so we could try different things. It was really good but some of it was too spicy for me. I liked the mohinga, but it was a little heavy on the spices. I ate a lot of rice and that helped with the spiciness. In front of the café, people were selling birds and fresh eggs. If you bought a bird you could set it free and it would be good for your karma. It was really interesting.
We finally got to go to the hotel and Mommy unpacked and I slept for four hours! We stayed at the Strand Hotel in Yangon. It is a very famous British colonial hotel. A lot of famous people stayed at the hotel, like George Orwell, Rudyard Kipling, and Sommerset Maugham. It had a lot of marble and our room was really big with a special private place for me to sleep.
We went to a local restaurant and had barbecued crab and local fish and prawns in banana leaves. It was full of families and very lively. They had a sink in the restaurant where you washed your hands after eating your crab. It was really nice to be on our own. I liked our local guide but he talked so much it felt like too much information.
We got up early (for a vacation day) as we were meeting our guide at 8:30. We had a really good breakfast at the Strand. I started counting the stray dogs and cats we saw roaming around. The guide warned me not to go near any dogs, as some could have rabies. Buddhists don't believe in killing any living thing so the dogs are left to roam the streets. The guide picked us up and we went to Botataung Paya. This is one of Yangon's big three payas, named after one thousand military leaders who escorted the hair from India to Myanmar more than 2,000 years ago. The stupa is said to have one of Buddha's hairs. The paya was partially destroyed in 1943 and then rebuilt. This is the only stupa that is hollow, and we got to walk through it. It was all made out of gold and the designs were really pretty and graceful. We got look at the ivory and gold container where Buddha's hair was kept. People prayed at the location of the hair and gave money and jewels.
We went to a pond filled with turtles. The pond is on the grounds of the Botataung Paya. Feeding the turtles would give you a blessing. The turtles were really cute and kept trying to climb up the rock. The whole visit was interesting, and we learned a lot about what the Burmese value.
After lunch we took a really pretty walk around Kandawgyi Lake, which has a beautiful view of the Shwedagon Paya and the huge Karaweik boat, which is a copy of a royal barge. It's used as a restaurant and has cultural dancing and musical performances. There is a long wooden planked bridge that wraps around half of the lake. We took the walk and it was beautiful, but the planks were uneven and broken we had to be careful not to fall. The surrounding park was really pretty and better cared for than a lot of the city.
We walked to Shwedagon Pagoda to see the sunset. It is the most important structure in Yangon. The stupa (a cone-shaped shrine) is 130 feet high and we had to take an elevator to see it. It was really big, gigantic! The pagoda grounds were really well taken care of. The grounds of the pagoda were beautiful, but the pagoda itself was amazing! It was magnificent when the sun went down and the lighting came on, perfectly placed. That was good, because like all religious Buddhist temples, you cannot wear shoes. The jewels, all donated by Buddhist followers, are worth more than $30 million. There are many statues in gold and other precious materials. There are eight different "corners" that represent the eight days of the Buddhist week, and each corner contains a statue of the spirit god and animal that represents that day. There are eight statues throughout the grounds, each of different animals. Depending on which day of the week you were born, you prayed to the animal representing that day.
Monday: Tiger
Tuesday: Lion
Wednesday morning: Elephant with tusks
Wednesday evening: Elephant without tusks
Thursday: Rat
Friday: Guinea pig
Saturday: Dragon
Sunday: Grouda
Our guide bought us offerings to give: flowers, a paper umbrella, little flags, and a decoration that represented a rocket, all in an arrangement. You put the offering on the shrine for the day you were born on. I was born on a Friday, so I put my offering in the Friday corner, where there were statues of a spirit god, the Buddha, and a guinea pig. Then I had to put three cups of water on the guinea pig and the spirit, and I put 12 cups on Buddha because I am 12 years old. Even though I am young, my arm still got really tired. I also was confused on how many cups of water I was suppose to use, so I thought I had put way too many cups of water on Buddha. I also started getting so bored of pouring water that I noticed the weathering of the water had made the painted gold lines on the Buddha statue disappear.
Favorite Local Dish
Yao Yao Pladas, a wonderful breakfast dish. It's like a thick pancake, served with brown sugar. It's really good and not that many places make it anymore. Try it if you can!
Samantha Mohinga, a fragrant fish soup with lemongrass and local vegetables. The fresh fish and seafood on the coast were amazing.
Smartest Thing We Did
Yao Yao The guides were the best and the worst. Some gave really interesting information and made the history come alive. Others talked too much and I got bored.
Samantha Going to Ngapali at the end of the trip. Having four days in a lovely resort allowed us to spend time together as a family, and to just be. We got to see a few sights and get massages, and most importantly, Yao Yao got to decompress. It left her with a good feeling about the three weeks.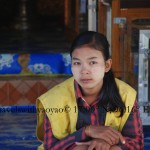 What Is That?
Yao Yao  At a local fair, we saw a Ferris wheel and my mom wouldn't let me go on it because it didn't have any safety belts. Then we noticed that there was no motor, and that it was powered by boys climbing on it and using their weight to make the Ferris wheel spin! It is so-o-o-o-o dangerous. One woman was crying the whole time.
Samantha  What's the whitish paint on everyone's faces?  It's thanaka, a kind of makeup made from ground bark mixed on a round stone slab called a kyauk pyin. It's used as sunscreen on both women and men's faces, and it also keeps your skin cool.