Ile de Ré, France: Bicycles, Beaches, Bastions & Baguettes
Best French fare
Yao Yao  – I loved the baguettes, soupe de poisson and ice cream.  Even the butter is better!
Samantha – oysters, oysters & any of the wonderful salads
Jim – fruit de mer, caramels with sea salt and sea salt

What to bring
Yao Yao – bring books for "down time", hair clips and sneakers for biking riding.
Samantha – the weather changes quickly, it can be very hot, then it rain and finally, get cool. Bring items you can layer, like a  hats, t-shirts and so on.
Jim – shorts and a good appetite!

Biggest surprise
Yao Yao –  It's not technically Ile de Re, but the aquarium in La Rochelle was amazing, really!  I also had so much fun bike riding.
Samantha – I couldn't believe how charming the entire island is!  I was surprised my husband didn't get sick from the enormous amount of oysters he consumed!

This little island of Ile de Ré, located off the West Coast of France, seems to inspire and captivate everyone who comes in contact with it. Maybe that's why it's not on travelers' Must See lists: Nobody wants to be the one to share the "secret"! I guess I have to be the one to let the cat out of the bag. Promise me, if you go, don't tell anyone!
Don't expect directional signage or restaurant menus in multiple languages, or fast food chains on every corner. The island doesn't even allow billboards! These and other vigilant regulations are just part of the reason why Ile de Ré has maintained its charm all these years. The island remains remarkably un-touristy for an island that depends on tourism. The majority of visitors are French, with a few English, Irish, and Italians thrown in for good measure. And in our two weeks, we met one other American – and he was married to a French woman!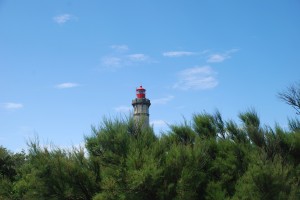 PHARE DES LES BALEINES The Phare des les Baleines is the tallest lighthouse on the island and one of the most powerful on the Atlantic coast. Exploring it and the surrounding area, especially on bikes, is a wonderful way to spend an afternoon. Before you even go into the lighthouse, walk to the stone wall overlooking the ocean and see the amazing grounds. Fredrick, our hotelier at L'Ocean, told us, "You'll feel like you're standing at the end of the world," and he wasn't exaggerating! The medieval fishing locks, where for centuries locals have trapped fish as the tide goes out, give the place an eerie, timeless feel.
Take the 281 corkscrewing steps up to the top of the lighthouse. Once you've arrived, the view goes on forever. You can see the entire island. Go in the morning to miss the tours and crowds. There's also a little museum that's worth a visit. And the lighthouse's older brother, Les Baleines Tower, was once the island's premier lighthouse, shepherding boats to safe harbor from 1682 until the newer, taller structure was completed in 1854. http://www.lepharedesbaleines.fr/
ABBAYES DES CHÂTELIERS Haunting and skeletal, the abbayes was built in the 12th Century by Cistercian monks. It's been destroyed several times over the centuries, and was finally deserted in 1574, although desultory restoration work has continued off and on over the centuries. I'm not sure what draws kids to this site but they really love it. (Maybe it looks haunted?) You can sign up with La Maison de Platin for a guided tour or treasure hunt. Call 05 46 09 61 39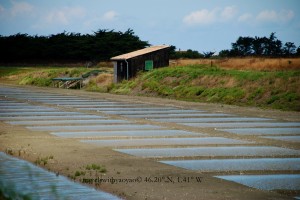 ECOMUSEE DU MARAIS SALANT Located in the core of the salt marsh, the Ecomusee shows you the history and production of the Retais salt marshes. www.marais-salant.com COOPERATIVE DES SAUNIERS DE L' ILE DE RE This is the cooperative of the salt farmers on the island. You'll learn the lifecycle of the coarse salt, all the way through production and packaging. Guided tours are available – and highly recommended! www.sauniers-iledere.com
MUSEE ERNEST COGNACQ If you want to learn about the history of the island, this is the place for you! It's a celebration of Retais art and history. The exhibits change often, so you should check the calendar prior to going – or if you're thinking about going again. www.musee-ernest-cognacq.fr
LA ROCHELLE Take the time to visit this lovely, sophisticated city. The ancient porticos make strolling a pleasure, no matter what the weather, and the Vieux Port, with its three magnificent medieval towers, its picturesque, finely restored buildings, and lovely seafood restaurants, make this a fine place to while away an afternoon and evening. By the way, the three towers – the Tour Saint-Nicolas (14th Century), the Tour de la Chaîne (14th Century), and the Tour de la Lanterne (12th to 15th Century) – are perfectly restored and immensely interesting to youngsters and adults alike. As is the outstanding aquarium (see below). You can easily get to La Rochelle by car or taxi. If you rent a car, make sure you have the toll card that's given out with most rentals, or you will have to pay 16 euros to get back on the island.
AQUARIUM LA ROCHELLE The Aquarium in La Rochelle was the highlight for Yao Yao. Honestly, I have a "seen-one-you've-seen-'em-all" attitude about aquariums, and I could have easily skipped it. But Yao Yao was pretty excited about going, and am I glad she insisted: What a treat! It's a wonderful facility, beautifully designed and packed full of amazing interactive exhibits. They also have a center for the care of sea turtles, whose goal is to return them to the ocean – we saw the results of their hard work one morning on the beach outside of Le-Porte-en-Ré, when four or five turtles were released, to great fanfare from the locals. http://www.aquarium–larochelle.com/en
Here's how Yao Yao remembers it, in an excerpt from her journal:
After walking around La Rochelle, we went to an aquarium while Dad went to see the old towers. I thought that it was going to be something like our local aquarium but I was wrong – this museum was far superior! It was AMAZING!
First we went into an elevator that was decorated like a submarine and had TV screens that made sounds and jolted us like we were sinking underwater. The elevator stopped and we walked into a tube with jellyfish swimming in it. It led to a room with dimmed lights and different fish everywhere! We walked though room after room with so many fish I felt like we could be in the ocean and there would be no difference! There was a really cool fish that was hot, bright pink. Then there was another fish that was half hot pink and half neon yellow, the colors were split right through the middle of the fish. I have to admit there were also some pretty ugly fish, but that didn't bother me much.
Mom and I walked through a whole room full of jellyfish! They were beautiful and very graceful. Right after, we went through that room there was a projector that was projecting water and fish that moved when you stepped near them. Then we stepped into another room that was half tube, half room. On one side it was like a normal room, on the other half it was a wall of glass that caved out into water. There were sharks in the tank, and I wanted to get closer to them, but you weren't allowed to step into the tube. However, there was one shark that was lying on the top of the tube so we could see its weird white stomach. It was really creepy but also really cool.
The last room we went into was surprising and . . . bright. I wasn't expecting a bright tropical room with a boardwalk surrounded by greenery. We walked along the boards until suddenly it started moving! I was so surprised! But then I realized it was just one of those swinging bridges. I also saw some signs that said "Danger Piranhas!" with the little picture of a fish. I was wondering if they put that as a joke, but then once I stepped down the stairs I saw a huge glass tank under the bridge I was just walking under. And it was filled with actual piranhas!
I turned the corner and yelped. There was a huge eye looking at me that belonged to a ginormous fish! It had silver scales that were shimmering in the light, and it looked like a wave of light going across the fish. I stood mesmerized by how big the fish was and how huge and creepy it's eye was. I eventually couldn't take the big eye looking at me so we moved on, walking through all the lush green plants. We passed a pretty waterfall, which looked really elegant even though it was manmade. On the way out we saw turtles and the piranhas again, because the path looped around. As we walked out the door I kept telling my mom how cool it was and that I would totally go back again."
SAINT MARTIN DE RÉ The principle town on Ile de Ré is the utterly charming village of Saint Martin. A UNESCO heritage site since 2008, its impressive bastions (designed by Sébastien le Prestre de Vauban, a 17th Century military engineer and architect), drawbridges, and citadel can be visited on foot or by bike. The harbor is full of charming shops, bustling restaurants, and cafes. No international chains to spoil the ambience – it exudes charm, and is a perfect place to meander down the narrow streets full of stylish shops selling trendy clothing, art, and local sea salt and chocolates. Kids will love the ice cream shops that dot the village. At night the harbor comes alive, with tourists and locals alike strolling around the star-shaped fortifications and the picturesque harbor – or parking themselves on benches and drinking the whole scene in.
LA FLOTTE La Flotte's 12th Century outdoor market is superior to all others on the island, at least to this market-lover. Seriously, if you love markets, don't miss this one. La Flotte is often listed as one of the most beautiful villages in France. Go beyond the harbor and wander around the back streets. There are some great little shops that have local clothes, shoes, and sweets. The hollyhocks grow wild, while the private mansions and the grand promenade will draw you in – and ensure you come back again.
ARS EN RE Ask anyone for directions to Ars, they will point to the black-and-white-striped bell tower of Saint Etienne church. Ars is a very quiet, very quaint village with a lovely square for sitting and watching the world go by. The Hotel le Senechel is a restrained, yet relaxed, family-friendly spot right in the heart of the town, with a small pool. (Check out the new Tower Suite with stunning views onto the square.) We were told that the "old money" prefers to reside in Ars or nearby Les Portes.  Le Senechel
LE BOIS PLAGE EN RÉ This wonderful little village boasts the most varied of the outdoor markets, which runs every day, rain or shine. The beaches are pristine, framed by sea grass and powdery sand dunes. Bicycle riders fill the streets, and the hollyhocks seem to pop up wherever they can find a bit of soil to lay down roots. The Hotel L'Ocean and its upscale restaurant are wonderful, and the owners, Anne and Fredrick, really catered to our interests and needs. Hotel L'Ocean 
LE COUARDE SUR MER
This is a deceptive little hamlet: When you drive along the main road, the area feels newly built, unrelated to the rest of the island. Head to the old center, though, and you will see something quite different. La Couarde boasts a lovely, leafy square with a great morning market for fruits and vegetables, meats, and cheeses; a bookstore, cafes, and other quaint shops; and a main artery that's lined with more interesting retail, charming galleries, and great eateries. I bought a wonderful straw fedora in Le Couarde, and promptly lost it when it fell out of my bike basket. (It's now a permanent part of the island!) Le Couarde sur 
Mer is a perfect little burg for families.
BIKE RIDING
Ile de Ré has an impressive system of bike trails that crisscrosses the island. They run through vineyards, oyster farms, and fields of flowers, medieval villages, and along the spectacular coastline. It's a wonderful family activity, and we all enjoyed every minute of it. The island is entirely flat, so riding is effortless, and there are wonderful markets where you can stop and buy treats for a picnic – or pull into one of the many oyster farms for lunch. Even if you are like me, and you haven't ridden a bike in years, go for it! Yao Yao proclaimed the bike riding her favorite part of the trip. There are bike rentals all over the island. Tout A Velo was particularly helpful in Le Bois Plage en Re.
www.Toutavelo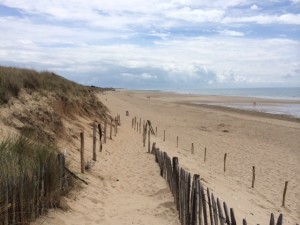 BEACHES
There are beaches for every activity you can think of, including no activity at all. The beach on the West Coast is perfect for surfers or windsurfers. The more southern beaches are calmer and ideal for children and more low-key beach activities. Wherever you go, the beaches well kept, reminiscent of the Hamptons. However, there are no sun beds or umbrellas available on most beaches – bring a towel and some shade if you can!
OYSTER FARMS
I wrote quite a bit about the oyster farm last week so I won't go on and on but . . . If you even think you might like oysters, go! Even if you aren't a big oyster fan, go! The little cabanes are an outstanding alternative to the typical croque monsieur or crêpe. Most cabanes feature moules frites, crevettes roses, soupe de poisson, and other seafood treats. Yao Yao always found something to eat and loved hopping off her bike and sitting in the shade while Mom and Dad shared a dozen! (Many cabanes are right on the bike trails.) Our favorites are La Cabane du Feneau and Cabana Jam. See my previous post, "Consider the oyster (and the shrimp and the…)", for more information.
La Cabane du Feneau
Cabana Jam
THALASSOTHERAPY
Thalassotherapy is the medical use of seawater, seaweed, and other oceanic products as a kind of therapy. There are three thalassotherapy centers on the island and many of hotels offer services as well. The treatments are supposed to improve circulation and complexion and detoxify as well as speed up your metabolism. Does it work? Of course it does! (Your mileage may vary. . .)
http://www.hotel-le-richelieu.com/thalasso
http://www.thalacap-iledere.fr
http://www.iledere.relaisthalasso.com/hotel/fr
SHOPPING
There are lovely little boutiques with local island fashion as well as antique shops, art galleries, gift stores, and, of course, fleur de sel (sea salt) everything. Saint Martin and La Flotte have the most variety, but the hunt is half the fun. Avoid the T-shirt hawkers on the port and really explore the small local boutiques and local markets. I found several woven bags, little French sneakers, linen dresses and blouses, antique linens, and of course, sel, sel, and plus de sel!  The local marketplaces in each hamlet, are not to be missed. See my previous post, "Consider the oyster (and the shrimp and the…)", for more information.
This little list of must see and must do is really just the beginning. There's horseback riding, surfing, hiking, snorkeling, vineyards, wine tasting, cognac tasting, amusement parks, and so, so much more. But the one thing you must do is – nothing at all. The best moments on the trip were when we were just sitting together, enjoying the island, the weather, and most of all, each other.
What I will miss
Yao Yao – I will miss the baguettes and butter.  It just taste different than home.
Samantha –  I will miss the physical beauty, the oysters and the freshness of everything we ate.

What I will be happy to get home to
Yao Yao – I will be happy to see my dog, Jack, my friends and to go to the library.
Samantha  –  Hum, I have to really think about that…
Jim – I am with Sam on this one!