Greece — Now is the time…
Athens & Delphi
It just goes to show you how easily we're swayed when it comes to "educational" travel. After much back and forth, my husband, Jim, and I decided to head back to Corsica in July. For those of you who haven't had the privilege, Corsica is a real "find." The physical beauty is unparalleled, and the French and Italian influences can be felt in everything from the amazing food to the equally amazing architecture. (Plus, our little bit of Italian language skills really ingratiated us with the locals, many of whom seemed to tolerate speaking to tourists in French but liked communicating in their own "second" language.) Anyway, Yao Yao, 11 at the time, had other ideas: "I want to go to Greece," she said. "I want to see where the Greek gods lived." Who can resist the idea of their child putting their middle-school educational chops to good use? It's true, Yao Yao had been inspired by her sixth-grade social studies class on Greek history and especially Greek mythology. Those Greek gods had a flare for the dramatic, and that sticks with kids. (They're also very much like a typical, modern, dysfunctional family, which kids find fascinating.) Anyway, she wanted to see Delphi. She wanted to see Zeus's cave and Knossos on Crete. She really wanted to see the Acropolis. What kind of mother would I be if I didn't support my child's quest for knowledge? So off we went. We decided that Yao Yao and I would go ahead of my husband and see Athens and Delphi. We would then meet in Crete for a few weeks, Jim would fly home and Yao Yao and I would head on to Symi and then home via Rhodes. Three glorious weeks in Greece with family in tow – sounds ideal.
ATHENS
Jim could only get away for a few weeks, so he decided that he'd forego Athens and meet us on Crete. We had been to Athens several times so he had a "been there, done that" attitude about the city. And truth be told, as excited as I was about getting one-on-one time with my 11-year-old daughter and having her serve as tour guide to Greek antiquity, I was dreading Athens a little bit, too. My memory of Athens was that of a noisy, crowded and polluted city. Boy, were we wrong. Now is the time to head to Greece!
Everyone is so scared of the crumbling economy and the student and worker unrest that tourism is down significantly – we heard it everywhere we went. And so are prices. (Don't expect airfare or hotels to be cheaper, at least in high season. But, food, drink, and everything else was way less expensive than we anticipated.) And the city has been cleaned up post-Olympics and seems less crowded and polluted than it was back in the day. The main sites don't have the huge crowds they typically do, either. The Acropolis still had hordes of tour groups but almost every other site we visited was easy to get into and blissfully tourist logjam-free. Yes, there were political protests, but Yao Yao and I felt perfectly safe. As one cab driver explained to us, the protests were not about tourists or Americans, and most of the young Greeks we spoke with just wanted to work and weren't looking to riot or cause harm. The simply want what we all want: the ability to earn a decent living. It's kind of hard to argue with that.
The Greeks are warm, interesting people who are proud of their culture and very connected. Don't be afraid of interacting with them – they'll talk your ear off, and that's part of the experience, wherever you are. Yao Yao doesn't speak Greek but was able to make friends with a little girl sitting next to us in a taverna. Kids have a language all their own, and I encourage her to reach out. Athens is an easy city to navigate. Trust me: with all of the traveling I've done, I still have no sense of direction. We walked everywhere and took taxis only if we were too hot or tired. The metro is rumored to be great, but I prefer to walk whenever possible – and walk we did! Luckily, Yao Yao is like a mountain goat and her stamina is great unless she's hungry or bored. Then again, I don't do so well under those conditions, either.
We stayed in Constitution Square, a good location for sightseeing and just wandering about. The Plaka is within walking distance, and though touristy, it's still lots of fun. There are a ton of restaurants, many mediorce and some great bakeries and takeout places. It's full of shops hawking t-shirts, key chains, and the like, but there are hidden gems in the Plaka. You can't help but trip over a Byzantine or Ottoman piece of architecture. There is good shopping in Athens, which we didn't explore too much. I wouldn't go to a place like Athens to buy an LV bag or Chanel suit. For me it's all about the sandals, scarves and anything Greek. Yao Yao loved the Plaka, especially the walk back to the hotel where you could find Greek frozen yogurt (amazing) or ice cream (mediocre). We wandered everyday and visited everything from the National Archeological Museum to the Acropolis.
The best thing we did was to make a list of places we wanted to see and be willing to let go of certain sights and just wander, sit in a café, or read. Most people visit Athens for a few days then head to other locations on the mainland or the islands. Athens, like New York, San Francisco, or any big city, requires weeks to explore, so know you can't see it all. It's more fun for kids (and most adults) to be able explore at will and rest when you get tired.
Don't make the mistake of ticking off monuments like a laundry list or your kids will become bored and you will turn them off travel. Sure, we saw our share of monuments, but it was the spontaneous conversations with locals and the happenstance interactions that made this trip so special. I listed a few "must-sees" below, but believe me – the list could have been much longer. There are quite a few good hotels in Athens but I booked the Grande Bretagne, on Syntagma Square. It was the hotel of choice during the days of the Grand Tour so I thought, why not! It's considered a luxury hotel and is not outrageously expensive – a good splurge. It's perfectly located and the rooms are fine and the bathrooms better equipped than most. When the city became overwhelming one afternoon, we took to the rooftop garden for a little lunch and relaxation. Yao Yao was hoping for more of an infinity pool, but she managed to suffer through it. At night, the rooftop bar and restaurant affords a wonderful view of the Acropolis glowing in the distance. The concierge was helpful but I had to make it clear we weren't interested in group tours or "international" eateries with every encounter. For the best restaurant recommendations, ask a local.
DELPHI
Delphi was high on Greek antiquity expert Yao Yao's list – I had seen it years ago and thought about skipping it but was so glad we didn't. It's a few hours outside of Athens but well worth the trip. There are a variety of ways to get there: In my younger days, I took a bus. There are day tours you can book from your hotel. The roads have improved so much that you could rent a car and drive it yourself. But we had to catch a flight to Crete that night and didn't want to risk a missed bus or a scheduling snafu, so I hired a private driver. Okay, it was stupidly expensive but I would do it again, especially if I had a young child or multiple children. We stopped when we wanted to, for as long as we wanted, and didn't wait in line for anything. The driver was amazing and ended up taking us to the airport that evening. I think when he saw my luggage he just felt sorry for me! Yao Yao's knowledge of the gods history helped made this a rich and memorable day. Do yourself a favor: If you're going to go to some of these critical sights, spend some time reading about the history prior to going, otherwise your kids are looking at a bunch of old naked statues and broken stone pieces that lack any meaning. Delphi really came alive because of Yao Yao's knowledge (not mine, that's for sure). Yao Yao's favorite part was the Oracle of Delphi. She was mesmerized!
The museum at the Delphi site was architecturally unremarkable but housed some impressive pieces – but after spending a few hours under the hot sun, a quick 45- minute walkthrough is about all Yao Yao was interested in. There is a horrible little café at the museum that serves flavored ice drinks like slurpies. We saw quite a few adults requesting alcohol in their slushies and sitting in the sun – hint-hint, they were not Greeks! If you're not going to visit any of the surrounding villages for lunch or snacks, bring something to munch on with you. (This would be a good time to sample some of those cheese pies I was mentioning!) And go early, as it gets very hot – and make sure you have water with you.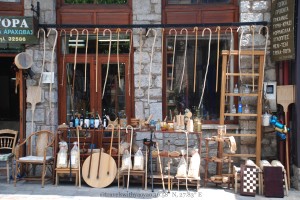 Syntagma Square
This is in the heart of Athens, anchored by the Parliament building and the Grand Bretagne hotel. Every hour in front of the Tomb of the Unknown Soldier, you can see the changing of the guards. The soldiers are dressed in traditional garb and it's a treat to see. New Acropolis Museum This was Yao Yao's favorite museum for both contents and design. It's magical: The floor is glass, so you can walk on top of the archeological sites and see all the details, while the Acropolis itself is in full view.
Acropolis/Parthenon
What can I say, it's the Acropolis. The Parthenon was partially covered in scaffolding (isn't it always?) but you could still have the full-on experience.
Theater of Dionysus, Odeon of Herodes Atticus
This is the type of site you could spend hour in – or days, depending on you and your children's interest, as well as the crowds and the heat. There are great kids' books that will help make this a more meaningful experience.
National gardens
This is a great respite from the hustle and bustle and worth a visit.
National Archeological Museum
Young kids will not last long, but it's worth a visit and about a five-minute walk away is a lovely square with restaurants and cafes that cater to locals and students. We had a lovely lunch. If the kids don't want to go, get a babysitter – it's that good.
Ancient Agora
Socrates came to this ancient open-air marketplace to exchange ideas, and St. Paul here to convert nonbelievers to Christianity.
Plaka
The old quarter with some real hidden jewels, including lovely Byzantine churches and mosques. The city did a major restoration here, and it shows. Sure, there are some really mediocre restaurants but some great takeout places and lovely cafes. Your best bet for a good restaurant is on the outskirts of the Plaka – an easy walk, even with kids in tow.
Monastiraki The flea market
It's really fun to stroll through.
Benaki Museum
This is the oldest private museum in Greece, housing 40,000 pieces of art and artifacts, mostly Islamic and Byzantine.
Hellenic Children's Museum
It's a great children's museum. The downside is the exhibits are in Greek but almost everyone there spoke English. There are some great interactive exhibits – and no entry fee.
Lykavitos Hill
You get an amazing view of Athens. Take the funicular (teleferik) to the top which is fun for your kids, then take the short walk back down.
Delphi and Surrounding Villages
We went to Delphi and Archova, but there are many to choose from. Be sure to try the Parnassus honey, formaella cheese, and hilopites (tiny squares of Greek pasta). If you're not driving, try the rakomelo, an anise liqueur with honey that's served in most bars or cafes. If you are desperate there are tons of typical kid activities in Athens but unless you have weeks to spare it seems a shame to take your child to a waterpark or some other activity you can do anywhere in the US. Having said that if your child is having a particularly rough time or you hit a heat wave, it's sometimes a lifesaver to have something familiar to take your child to. The first time we took Yao Yao to Provence, we made a game out of seeing how many carousels she could ride on. Every time we went to a new little hamlet in Provence we would look for a little carousel. It gave her something fun and familiar without truncating the day. Don't be too rough on me about the "Don't' miss" list. I could go on forever but most people who travel to Athens spend just a few days. As I mentioned you could spend 6 months and not see it all. There are wonderful hiking opportunities, beaches to visit, wonderful villages to explore-it's all about your choices and where else you are going on your trip. There is no right or wrong way to explore this great city. Be respectful of the culture, be kind and generous to those you interact with and you will have a great adventure. There are a million helpful websites with specifics on Greece, history etc. There are also numerous books I read prior to leaving or used on our trip. I am happy to share any of those sites or books if you are interested.
Best food Yao Yao's best dish is gyros' or taramasalata. Samantha's best dish is grilled seafood of any kind and the wonderful salads. Jim's best dish was grilled lamb on a spit and the fried zucchini. Note none of could pick just one!
What to bring Yao Yao's pick is her Crocs "so you can go in and out of the water easily and they protect your feed better than flip flops when you walk on pebbles".  Samantha – sun screen.  "Seriously that sun can be brutal reflecting off the rocks and sand".
Biggest surprise Yao Yao –  "It had interesting historical things but also great beaches and fun things to do".  Samantha – I was thrilled to see not all of the Greek Islands had become big tourist gathering spots.  Lovely old villages and stunning empty beaches have survived"!  
Yao Yao's book picks Greek Mythology (Ken Jenning's Junior Genius Guides) (recommended by Yao's BFF)Percy Jackson and the Olympians by Rick Riordan.  There are six books in the series The Demi God Files by Rick Riordan 
Samantha's book picks
Bitter Lemons by Lawrence Durrell Spirit of Place: Letters and Essays on Travel by Lawrence Durrell
Good sites to check out